More than five years after the specter of a Greek default first sent global markets into a tizzy, the heavily indebted euro zone country is on the brink of default—again.
To be sure, financial markets are nowhere near as panicked as they were back in 2010, when Greece became the first spark in what became the European debt crisis. Still, Greece matters. And financial markets are once again showing faint, familiar signs of contagion. After months of shrugging off Greece's ongoing woes, European stock and bond markets are both getting clobbered today.
There are many ways to think about the history of the Greek crisis. But, for our money, this chart is one of the best tools to understand what's going on.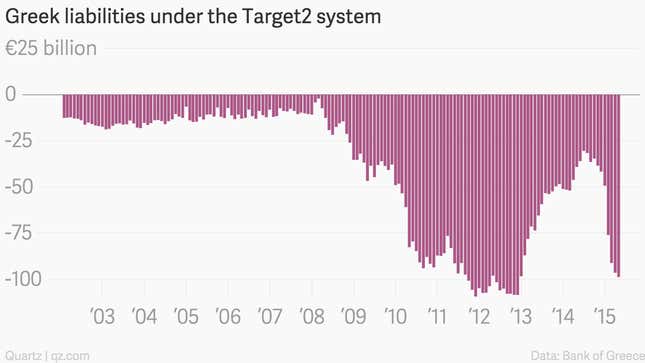 What is it? It's data from Europe's "Target2" system, formally known as the Trans-European Automated Real-time Gross settlement Express Transfer. (It's the second version of the system, hence the "2.") Essentially, this is the EU payment system that big institutions—mostly banks—use to make large, cross-border payments throughout the day. This is serious money. In 2014, roughly €1.9 trillion worth of transactions were made on the Target2 system each day.
This chart shows Greek banks have been constantly borrowing from the ECB, which uses Target2 to send money to banks. After a brief respite, Greece has again built up sizable liabilities to the ECB.
But why?
Well, that brings us to chart #2, which shows Greek bank deposit levels. Withdrawals have accelerated in recent months as people worry about the possibility that their euros could be re-denominated into rapidly depreciating drachma in the event that Greece has to exit the euro zone. And with time running out, the rhetoric running between the Greek government and its creditors suggests that once again Greece's fate will be depend on the ability to agree to a last-minute  deal.