Crowdfunding is coming to online crafts marketplace Etsy, which says it will now allow some sellers to raise money from shoppers on its e-commerce site.
The move is bound to be a boon for the small-bit sellers who often struggle to pay upfront for the materials and equipment needed to manufacture new products, but it's a riskier endeavor for buyers of Etsy products who could end up paying for a product that they never receive.
The romantic notion of crowdfunding, which began as a way to tap the online masses for startup capital to fund idealistic music and art projects, has since evolved into a $16.2 billion global industry offering a risky combination of retail and investment. Many projects have turned out to be fraudulent ploys for cash or amateur flops that don't deliver on promises to the consumers that funded them. Funders are often left unsure of what they're entitled to once they pledge their money.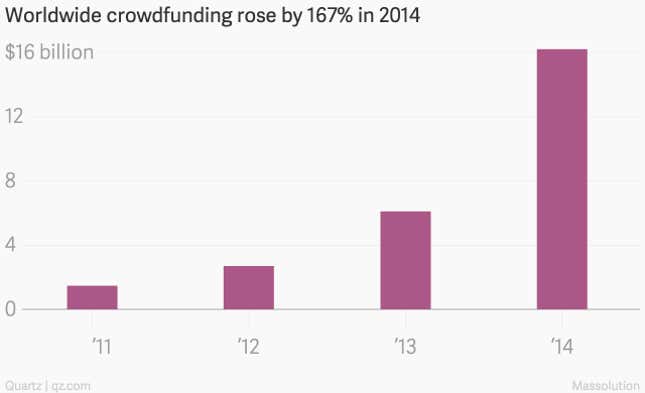 Just this month, the US Federal Trade Commission settled its first case involving crowdfunding, in which a project creator raised $122,000 through crowdfunding website Kickstarter to produce a board game but instead used the funds on rent and other personal expenses.
The FTC case comes after a raft of other lawsuits and public complaints over deceptive practices involved in failed crowdfunding projects, as well as a stark warning from the UK's Financial Conduct Authority, which has warned consumers involved in crowdfunding that "it is very likely that you will lose all your money."
The model embraced by Etsy will only make the concept of crowdfunding murkier, since the craft marketplace will be listing the crowd-funded campaigns alongside its traditional e-commerce offerings. Already the site is teeming with sellers who can't hold together a business. Just 32% of the sellers Etsy deemed "active" in 2011 remained as such by December 2014, according to the company.
Fund on Etsy, as the crowdfunding initiative is called, would tempt shoppers to invest in products that had yet to be produced, based on the idea that once the seller met its funding goal, buyers would eventually receive their products.
Etsy says it will ensure that consumers' credit and debit cards are never charged for campaigns that don't raise enough money to fulfill their initial advertised goal. But it doesn't guarantee that buyers will end up receiving what they pay for once the funding goal is met.
Nikki Summer, a spokeswoman for Etsy, says the company will initially run crowdfunding as a pilot program this summer with 100 carefully selected sellers. The company has worked with the sellers to "set reasonable and realistic goals and expectations," Summer tells Quartz.
But the caution comes with a caveat, says Summer: "With crowdfunding, the buyer does bear the risk when choosing to fund."