As Gap flounders, many of who us grew up with the retailer lament the loss of the Gap we grew up with: a source for basics such as hearty pocket tee-shirts, reliable denim, and a few seasonal updates. (Also, these ladies.)
While the brand has shuffled creative directors—and directions—over the last decade, another provider of relatively trend-proof and affordable clothing has been steadily gaining on its territory: Uniqlo.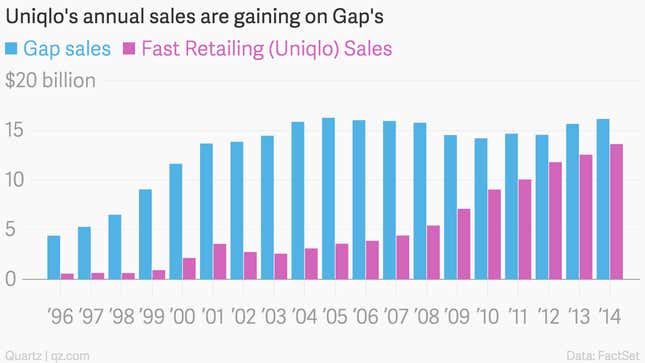 In the US, where Gap will close one quarter of its 675 stores before January, Uniqlo has 42 stores already, and has announced plans to exceed 100 stores "over the next few years." (In June, Gap hired Uniqlo's chief merchandising officer, Steven Sare, to help it get back on track.)
In 2014, Uniqlo's parent company, Fast Retailing, reported $13.6 billion in sales, compared to Gap's $16.1 billion. And if you account just for each company's flagship brands, Uniqlo is already bigger than Gap. Fast Retailing includes companies such as Theory and J Brand under its umbrella, and Gap Inc. has Old Navy and Banana Republic. Uniqlo accounted for about 80% of Fast Retailing's business (pdf) in 2014, while Old Navy made up 40% of Gap's global sales (paywall).
Some attribute the Gap's decline to the fierce individuality of the elusive millennial. To be sure, trend-happy shoppers seeking a hit of fast fashion are making the owners of companies such as Zara and H&M—both of which outsell Gap and Uniqlo—very, very rich. But one needs only to glance inside a Uniqlo store in Manhattan—its flagship there claims to be Fifth Avenue's biggest store—to see that there are still many customers for affordable, relatively undecorated clothing that flies stylishly under the radar. It's just that increasingly, they're probably buying that clothing at Uniqlo instead of Gap.