All those ATM fees you pay to take out cash really add up.
Federal regulators now require (pdf, p. 66-68) consumer banks with more than $1 billion in assets to break out some of their fees, and SNL Financial, a banking industry data provider, ran down the ones that make the most money from your withdrawals.
Collectively, the reporting banks made $437.7 million from ATM fees in the first quarter alone.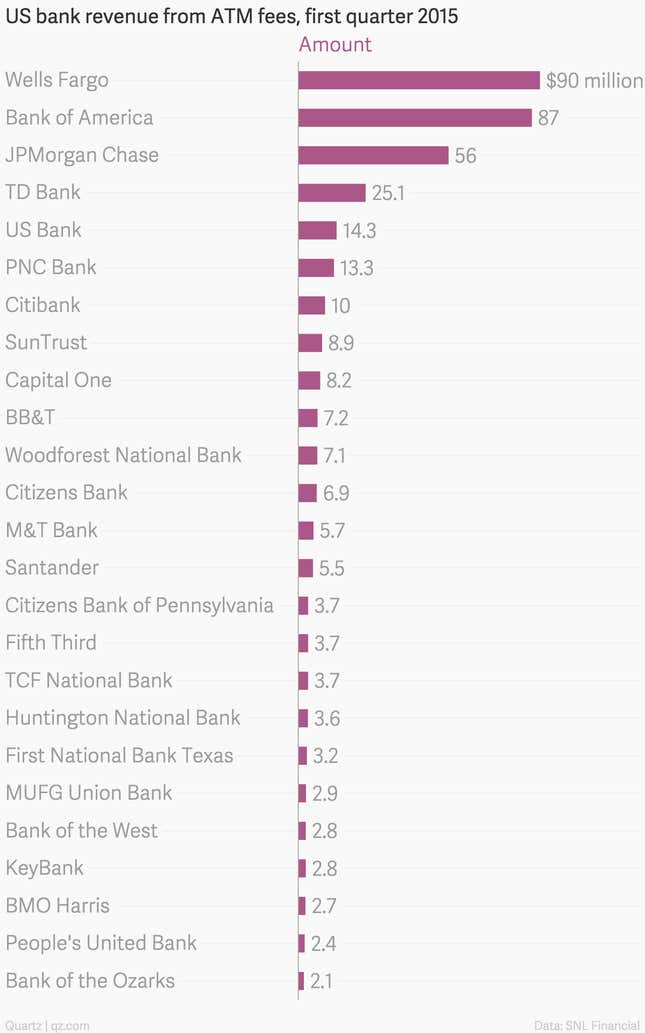 Obviously, the nation's biggest banks bring in the most ATM fee revenue—the ones that got more than $10 billion of it last quarter had nearly $1.9 trillion in collective deposits. And for those banks these billions are a drop in the bucket (the biggest banks made twice as much on "maintenance" fees and more than five times as much from overdraft fees). Wells Fargo's $90 million, for example? Just over half a percentage point of its operational revenue in the first quarter.
Smaller banks make a greater portion of their revenue from ATM fees. TD Bank, which has been expanding aggressively in the US, is near the top when measured by revenue, as well as by portion of its total revenue. That probably won't surprise its customers: The bank charges $3.00 (pdf) every time they use an ATM outside its network.