It's happened to the best of us. Tempted by a steep discount, we succumb to the temptation of buying an item of clothing, or maybe an accessory, we don't exactly need. But it's such a great deal!
That's what Tressa Gattinella alleges overcame her when she encountered a pair of white "Side Anklez" jeans at the Kors Outlet—an off-price store owned by Michael Kors—in Camarillo, California. The price tag showed an MSRP (manufacturer's suggested retail price) of $120, with an "our price" of $99.99 and then—wait for it—a further discount to $79.99. She was, according to a class action complaint filed against Kors last year, "enticed."
So what's wrong with that? The seductively "discounted" Side Anklez were never intended for sale in flagship stores at the full MSRP of $120. They, like many products sold at luxury outlets, were made for sale exclusively at the Kors Outlet. According to Gattinella's claim, that original $120 price tag was a lie.
Kors agreed to pay $4.88 million to settle that suit last week. The company denied any wrongdoing. It did agree to change the labeling on those outlet price tags from "MSRP" to "value," which seems equally arbitrary in this context.
Similar cases have been brought against Ralph Lauren, Saks Fifth Avenue, and Gap, and last year four members of Congress wrote a letter to the US Federal Trade Commission complaining that most of the goods sold in outlets are made specifically for them, often to a lower standard of quality, as opposed to the "excess inventory and slightly damaged goods" that hung in the outlets of yesteryear. Passing those items off with a luxury label when they would never pass muster for the brand's retail store, the Congress members wrote, is "deceptive and unfair."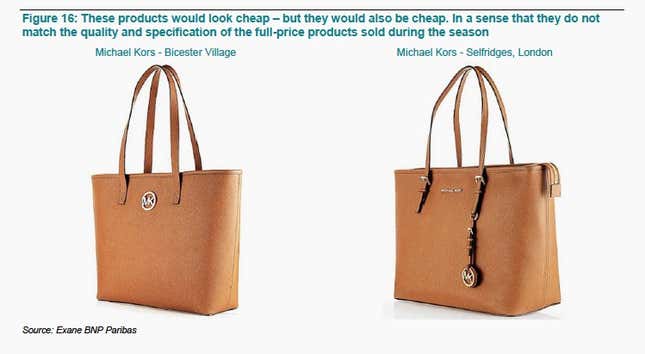 It's also a questionable business strategy in the fickle realm of luxury, where exclusivity is prized. While Kors has been opening more outlet and full-price stores, its rival Coach is attempting to rebuild its brand by closing its less lustrous stores in shopping malls and getting its logo out of outlets.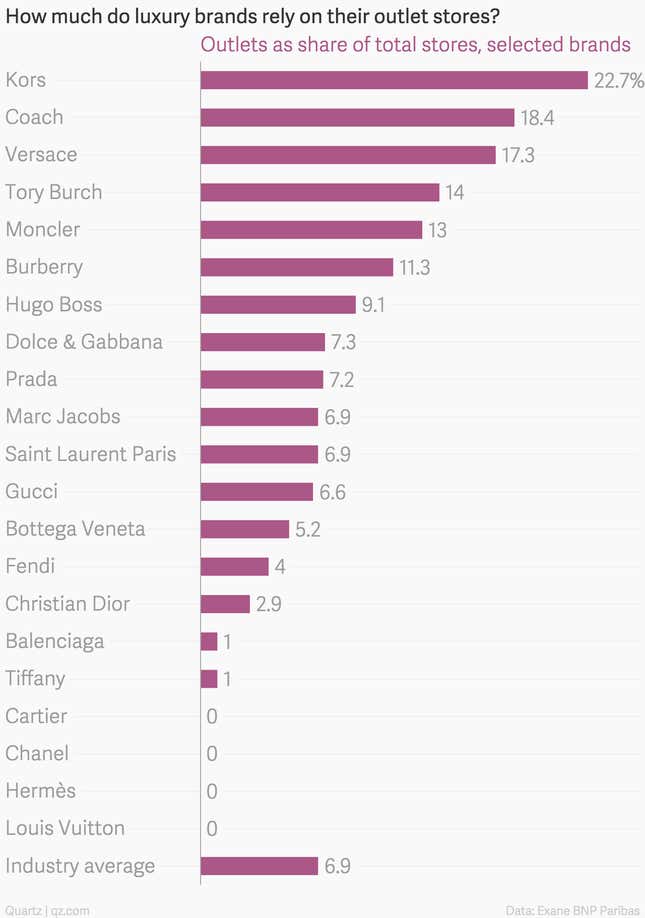 A new report from BNP Paribas employs an extended metaphor comparing luxury companies' dependence on off-price outlets to the "sweet poison" of "whisky for a drinker." This method of making goods to be sold exclusively in off-price outlets is "tantamount to creating a sub-brand without declaring it" and cheapens the brand, BNP says. In other words, for the company as well its customers, those goods may not be quite such a terrific deal after all.