HONG KONG—Hong Kong lawmakers definitively voted down a controversial election plan that would have given Beijing the power to choose candidates for the city's highest elected office on Thursday. In a farcical twist to what has often seemed an absurd process, most pro-Chinese Communist Party lawmakers didn't vote at all, after staging a walk-out that puzzled their opposition.
Only eight of Hong Kong's 70 legislators voted for the reform package, while 28 lawmakers voted against it, well over the one-third needed to veto it. The 28 include one pro-establishment lawmaker, Leung Ka-la, who unexpectedly switched sides.
Now that the proposed reform package, which sparked the "Umbrella Movement" protests last year, has been defeated, it is unclear what will happen in the city's next election for chief executive, in 2017.
Beijing has vowed not to offer any alternative to the defeated package, and direct elections for local representatives risk being suspended. Currently, Hong Kong's chief executive is elected by a committee of business leaders and industry representatives who aren't voted in by citizens. Until a new reform plan is drafted, that system will remain.
The scene inside the city's Legislative Council was confusing. "We have no idea what happened with the rest of the group suddenly deciding to leave the chamber," said James Tien of the pro-government Liberal Party, who remained in the chamber to vote for the bill. Pro-Beijing legislators later blamed miscommunication over their request for a delay of the vote in order to wait for a colleague.
Still, Hong Kong's pro-democracy lawmakers and activists claimed victory. "History is on the side of democracy," Labour Party chairman Lee Cheuk-yan said, as the SCMP reported. Emily Lau, chairwoman of the Democratic Party, called on Beijing to propose a new reform package immediately.
Outside the government headquarters, celebrants gathered in groups, cheering and listening to speeches. Some handed out sweets:
https://twitter.com/lilkuo/status/611410197869785088
"Today we won," Zi Ming, 54, a protester who has come to demonstrate outside the government headquarters for the past 50 days. Now, he said, he will go home and not come back, focusing instead on electing lawmakers who support universal suffrage in next year's legislative election. "From today until 2017 we will keep pushing," he said. 
"It's just the beginning," said Vini Tsang, 50, another pro-democracy supporter sitting at a table outside of the government headquarters with pamphlets urging Hong Kongers to fight against "fake universal suffrage."

After the vote was tallied dozens of pro-China supporters wearing matching outfits and carrying identical signs left quickly, dumping their signs as they departed: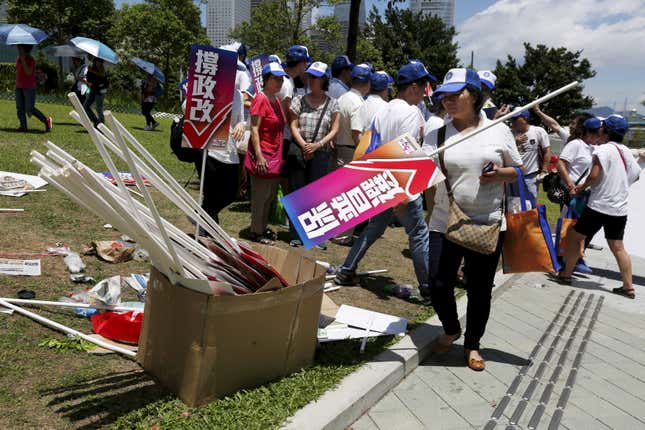 Reaction from Beijing was muted. Chinese state news agency Xinhua published a terse report saying that the Chinese parliament's decision on election reform would "remain in force in the future" despite the veto.