Chinese stocks closed today after recording their largest weekly decline since the financial crisis, sparking worries that the nation's longest-running stock market boom is about to turn to bust.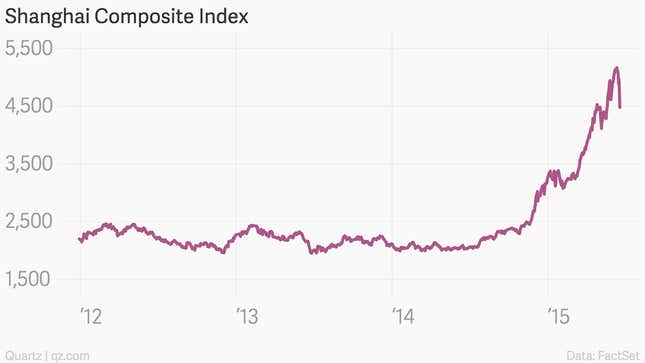 The benchmark Shanghai Composite index lost 6.4% on the day, touching its lowest level in four weeks. The weekly drop of around 13% was the worst since 2008: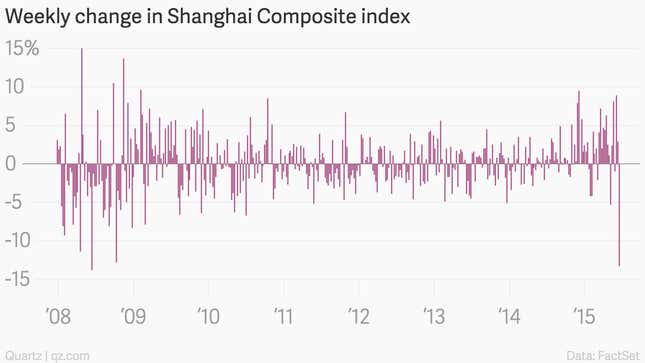 The correction is likely the result of regulators trying to curb the recent explosion of margin financing (paywall), in which investors buy stocks with borrowed money. There has also been a rush of initial public offerings that has stoked stock buyers' appetites.
Chinese investors have been enjoying the longest bull market since the country first opened its bourses in 1990. Bloomberg reckons that China's bull market has now lasted exactly 928 days, more more than five times the average lifespan of previous booms in the country.
The boom is being encouraged by the Chinese government, hoping to funnel money to indebted companies and give households an alternative source of wealth as the housing market sputters. Rising stocks created a million new dollar millionaires in China last year. 
The bull market may still have room to run, given that more government stimulus is expected in response to a cooling economy. But if this week's reversal marks the beginning of a prolonged correction, it will be the millions of mom and pop investors who comprise the bulk of China's stock market that will feel it the most.