Columbia University, which manages a $9.2 billion endowment, has decided to pull its money from companies that run private prisons, citing the "larger, ongoing discussion of the issue of mass incarceration that concerns citizens from across the ideological spectrum."
The move, announced by the school's trustees, comes in response to student-led protests that drew attention to the economics of fast-growing private prisons. Unlike crammed and underfunded state and federally run prisons that benefit when there are fewer inmates, private prisons are incentivized to take in more people to their facilities. The industry also has been criticized for targeting immigrants and minorities.
"An investment whose positive performance is linked to an increase in already high levels of incarceration does not fit with the University's mission and values," Columbia's advisory committee on socially responsible investing wrote in March.
The university has held shares in British-based global security firm G4S and in Corrections Corporation of America (CCA), the largest private prison operator in the US. With $1.6 billion in annual revenue and more than 60 facilities and 80,000 detainees and inmates, CCA owns more than 60% of all privately owned prison beds in America. Its shares are down 19% in the past three months.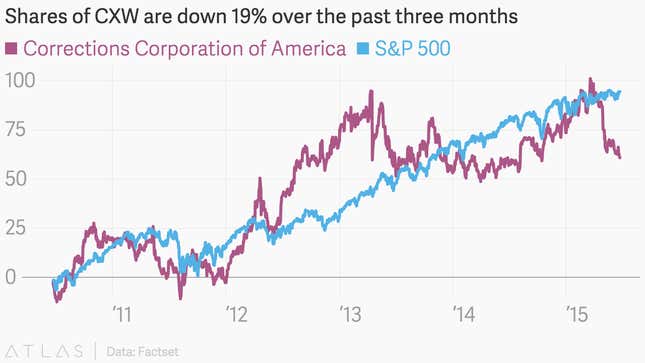 A hedge fund that managed part of Yale's endowment pulled its investments from CCA back in 2007, but Yale didn't rule out future investments in private prison companies. Columbia says it is the first major school to announce a divestment policy on the sector.
The number of inmates held in private facilities has soared over the last two decades as state and federal governments face budget constraints and outsource the operations to private facilities. Nearly a fifth of federal inmates and 6.8% of state inmates were held in private facilities as of December 2013, according to the Bureau of Justice Statistics.