You've seen the portable ecocapsule. You've basked in the glory that is the luxury "floating seahorse" house. And now, in what resembles a synthesis of the two futuristic creations, Serbian design studio Salt & Water has conceived of the floating hotel, complete with catamaran-apartments that are meant to roam off to their own spots of solitude.
According to the company, the project's aim is to promote tourism on inland bodies of water, like lakes and rivers, while making those taking part feel as though they're in harmony with nature. Call it a Four Seasons for Thoreau.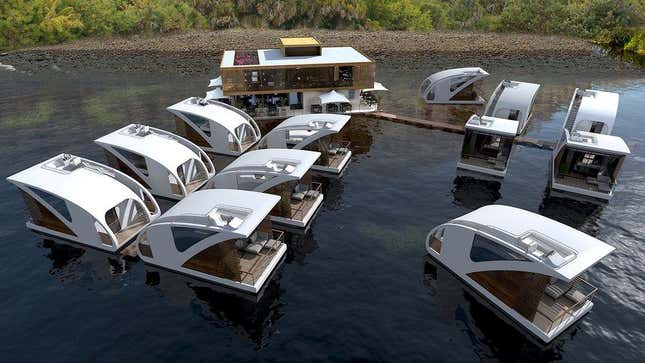 The main hotel building, which also floats, features a restaurant, reception area, event space, and offices for staff. The hotel "rooms" can dock at the central hub or be navigated elsewhere, so its occupants can go fishing while they sunbathe away from all the commotion of the main building. Each unit, which is a highly modified catamaran, can accommodate 2-4 people, and comes with a bathroom, living area, and two separate outdoor spaces.
The design won a Millennium Yacht Design Award for its "elegant interpretation and enhancement of a house boat in an intelligent housing solution."
Salt & Water said on its Facebook page that it's looking for investors, and hopes to make the design a reality soon.