As US egg production drops from avian flu, California is seeing an even bigger dip than the rest of the country.
The 5% drop in egg production across the US from May 2014 to May 2015 is a result of the loss of more than 48 million birds, the majority of which were egg layers. But California produced 16% fewer eggs in the same period for an entirely different reason: In January, the state's egg producers had to start complying with Proposition 2, the state law passed in 2008 that required egg-laying hens to be raised with enough space to stand, lie down, fully extend their wings and turn around. In 2010, another California law, AB 1437, required that all shell eggs sold in the state would need to comply with the requirements of Prop 2, as well.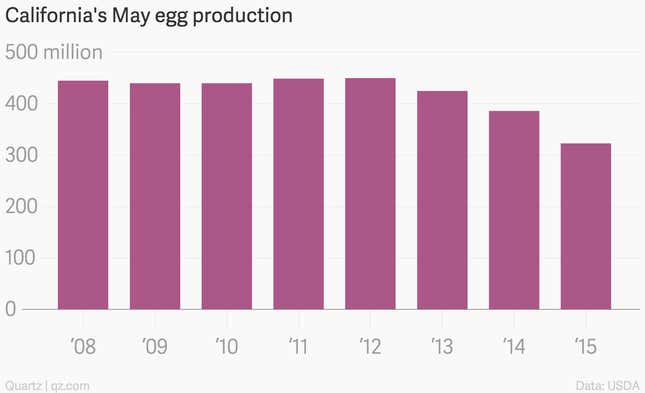 But, as Capital Press reports, instead of spending the millions of dollars necessary to refit their facilities to house chickens in larger cages, many egg producers instead simply cut the number of birds they were raising, giving each hen more space in the cages already available. The state had more than 16.8 million egg-laying hens on hand in April 2014; in April 2015, there were 13.2 million, according to the USDA. Egg production, therefore, has dropped precipitously.
Whether or not this was the necessary outcome, though, is debatable. "Egg producers had six long years to prepare to come into compliance with Prop 2. Instead of using that time wisely by converting to cage-free systems, they simply sued time and again, and have lost all four of their suits thus far," says Paul Shapiro, vice president of farm animal protection at the Humane Society of the United States. Plus, as the USDA data show, egg production fell before Prop 2 went into effect in January 2015, falling 9% between May 2013 and May 2014.
California is the sixth largest egg-producing state in the US, according to the American Egg Board.
Avian flu has hit California, too, but there are only two confirmed reports, the last of which was 133 days ago, according to the USDA. In Iowa, by comparison, there have been 75 reported cases, including one reported eight days ago.