At a White House reception yesterday to celebrate advancements in civil rights for lesbian, gay, bisexual, and transgender (LGBT) Americans, Barack Obama was addressing the crowd when an audience member—identified by the New York Times as Jennicet Gutiérrez, a transgender woman who says she is an undocumented immigrant—raised her voice in protest: "President Obama, release all LGBTQ immigrants from detention and stop all deportations!"
"Hey! Listen, you're in my house," said Obama.
In his seven years as the US president, Obama has alternately angered and delighted the public with his off-the-cuff retorts to hecklers. Yesterday, he showed a bit more annoyance than usual.
"You can either stay and be quiet or we'll have to take you out," he said. "All right, can we have this person removed, please. Come on, guys." Once Gutiérrez was gone, Obama un-pursed his lips and tried to lighten the mood.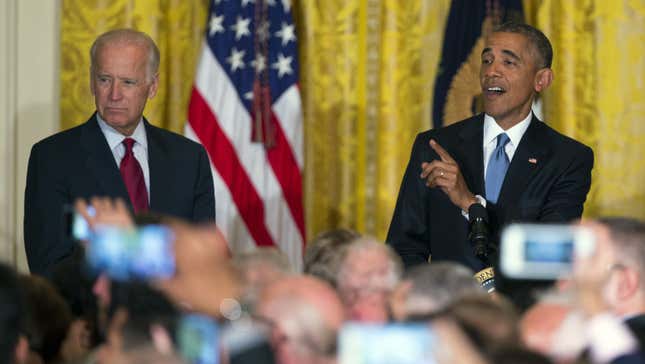 "As a general rule I am just fine with a few hecklers, but not when I'm up in the house," he said, turning to vice president Joe Biden, standing beside him. You know what I mean? …. My attitude is if you're eating the hors d'oeuvres—you know what I'm saying?—and drinking the booze… that's right."