On the scale of activities, many women I know put the pleasure of swimsuit shopping somewhere between driver's license renewal and bikini waxing. I do not blame them. Over the last decade, I have found swimsuit options to be at once overwhelming in their quantity and price, and underwhelming in their quality. Dressing room lighting hasn't helped.
I've wasted too many hours that could have been spent on the beach or in the pool searching for just the right swimsuit. The J.Crew team offered some respite when they revived my favorite standby scoop-back tank suit, but my swimsuit drawer still wants for variety.
Happily, designers are making this summer the best I can remember for bathing suit shopping. For once, it's better than bearable. It's actually kind of great.
Here's why you should stop putting off the swimsuit shopping, get it done, and go outside already:
You can do it from home (or work)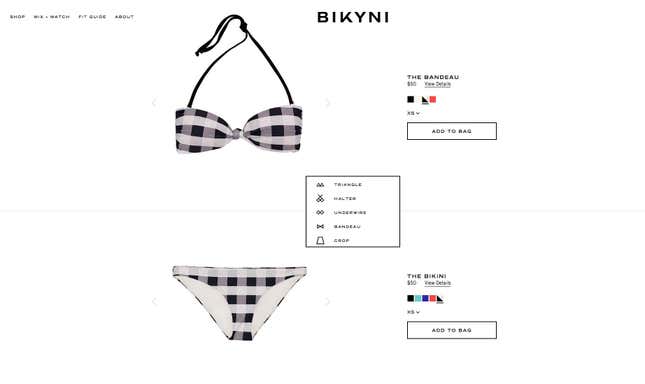 Swimsuits are one of the few garments I actually prefer to shop for online. It's much easier to fantasize about summer adventures from the comfort of your phone, laptop, or desk (ahem), picturing the support, shape, color, and feeling you want from your new suit. Not so in an air-conditioned store.
Once you select some options and get them in the mail, you can try them in front of your mirror at home, safe from the horrors of dressing room lighting, preferably on an afternoon when you're feeling especially attractive.
A new crop of swimwear brands and websites, along with enhanced search from old favorites, are making this process easier—even addictive. Read on.
Fabrics keep getting better—and construction is more flattering
Last summer, I wouldn't have touched a swimsuit that claimed to be "body-shaping" with a ten-foot pole; the concept conjures images of internal egg crates and gut-crushing spandex. Then, I tried some from the new southern California-based line, Judy B. swim (pictured at top).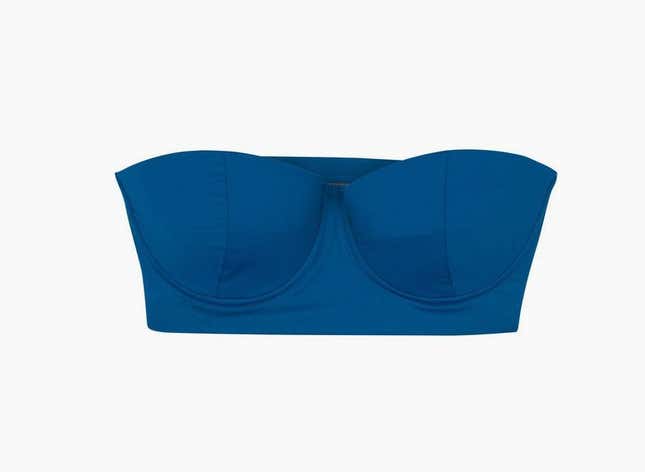 The swimsuits have a layer of what founder Jordan Infascelli calls "power stretch" fabric sandwiched between two layers of Italian matte jersey lomellina, and the edges are finished so the seams lay flat on the body, rather than digging into one's softer bits. These swimsuits feel smooth and substantial, but not oppressive.
Two Quartz reporters tried on a variety of Judy B. swimsuits with me, and we were all impressed. The bustiest among us was shocked to find herself in a strapless top she liked, and the most petite was thrilled with the cheeky back of a halter one-piece. For me, the Pamela tank suit was perfection.
The one-piece is back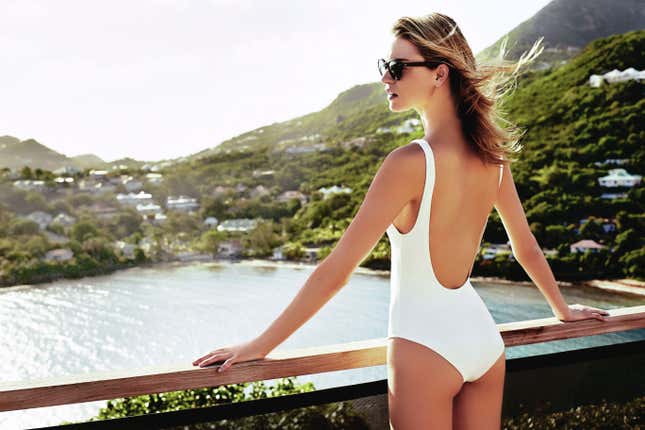 Speaking of that Pamela tank suit, one-pieces are back in a very big way. Embrace them. A few good sources beyond the ever-reliable J.Crew: Solid & Striped and Onia for sporty minimalism; Zero + Maria Cornejo for sophisticated, grown-up styles, some made from recycled fibers; and Marysia for a feminine, fashion-forward take.
They're selling tops and bottoms separately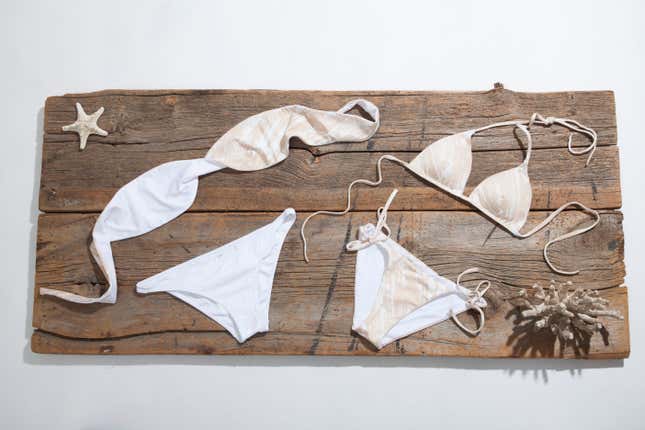 The Los Angeles-based Bikyni—something of an Everlane for swimsuits, with moderately-priced, tightly-edited trend-proof styles and a simple site—gets extra points for selling its separates, well, separately. Same goes for the Queensland, Australia-based Peony, which charmingly calls its (mostly smallish) bottoms "pants."
Smart, modern brands increasingly sell bikinis this way. (Note to those who don't: Get with the program.)
Those high-waisted Taylor Swift bottoms are growing on me
I can't quite banish the memory of a boyfriend comparing the high-waisted bottoms overtaking New York City's beaches a couple summers ago to diapers. At the time, I didn't disagree, but the style has endured long enough that it's finally starting to grow on me—much like the music of Taylor Swift, who popularized the style.
The person who really turned me around here was not Taylor, or even Beyoncé, but the 1990s supermodel Helena Christensen, when I rediscovered her frolicking on the beach in a high-waisted bikini in the Chris Isaak Wicked Game video (1:35).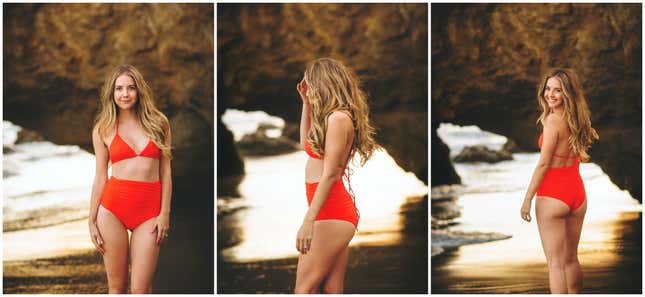 I was initially deeply skeptical when trying on Judy B's cherry red triangle top with these high-waisted bottoms (above). I was wrong. I've never seen South Pacific, but I'm pretty sure I re-enacted a number from it when I pulled those ruched bottoms up to my midriff.
Bottom line: These can be good for your bottom line.
As long as we're trying new things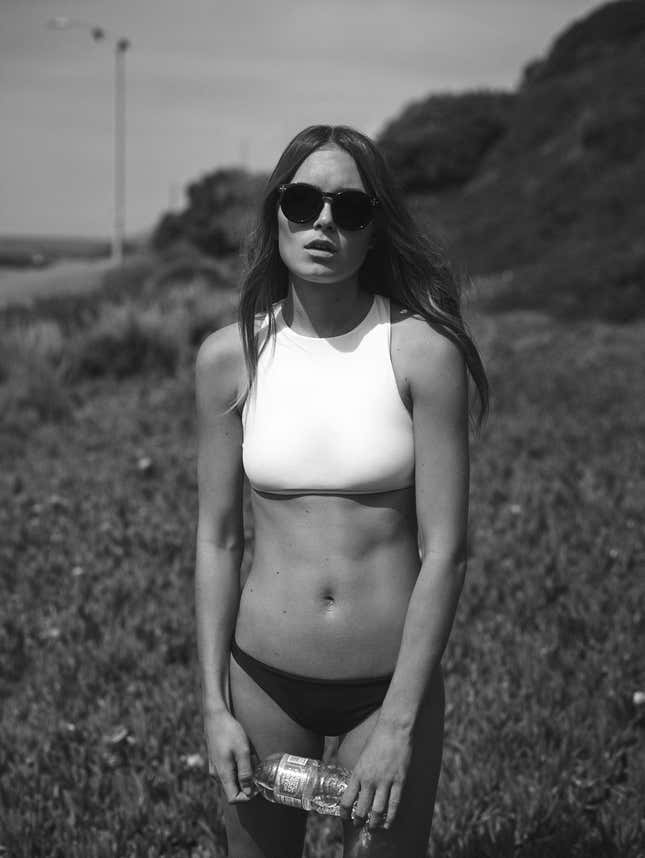 My next departure from personal swimsuit tradition will be the high-necked top. I know there is a cult of maximum exposure at the beach, and I have often been a member. Sun, saltwater, and sand are great, and I want to feel them all.
But my chest is often the first place to burn, no matter how much La Roche-Posay I apply, so I end my day in a t-shirt or swathed in after-sun lotions.
Enter this new crop of tops: Bikyni's cross-back version, Rochelle Sara's in woven fabrics, and J.Crew's stripey halter.
The height of summer is no longer too late to go swimsuit shopping
A few years ago, it was much harder to get a high-quality swimsuit in the height of summer. Department stores were beholden to a sort of designer arms race whereby bikinis appeared long before the spring thaw and winter coats arrived around, well now. (Here's a video explainer on that.)
Brands that sell swimsuits directly online to customers—rather than to retail store buyers—sidestep that archaic fashion calendar. Just get yours before the summer is over.