China's stock market has taken a turn for the ursine. Today's 3.3% tumble left the Shanghai Composite Index down 21.5% since its June 12 peak—official bear market territory, as we reported earlier.
How much is that in actual money, though? The Shanghai Composite has lost nearly $1.2 trillion since June 12, as the Financial Times' Josh Noble pointed out.
That's just shy of the combined market capitalization of Spain's four stock exchanges. And it's not even counting losses in Shenzhen, China's other major bourse.
Today's tumble was especially disquieting given that over the weekend, the Chinese government cut both interest rates and the reserve requirement ratio for banks.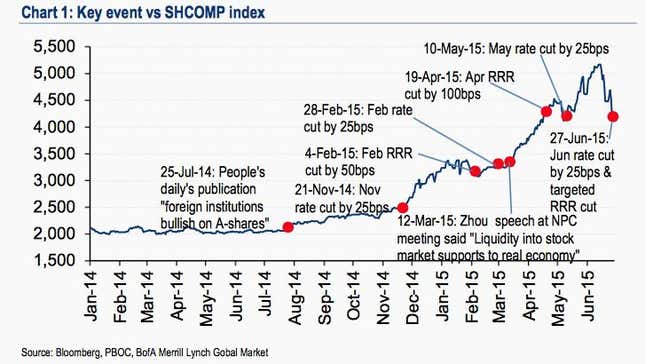 While the loosening in the last few months has arguably been geared toward revving up the sputtering economy, the latest moves are likely direct responses to the swooning stock market, says Tom Orlik, an economist at Bloomberg.
"Amped-up stimulus suggests the central bank is concerned that a tumbling equity market could snuff out the recovery in the real economy," wrote Orlik in a note. "The equity market correction risked hitting consumer confidence, company fundraising, and value added from the financial sector."
What overpowered such aggressive freeing up of cash? A semi-annual audit of listed companies forced firms to sell stocks in order to restore their balance sheets, Anne Stevenson-Yang, head of J Capital Research, told the South China Morning Post (paywall).
Among these companies were banks and brokerages, which have been profiting nicely from margin trading (whereby traders can borrow to beef up their stock bets). This speculative trading has been driving the rally, as we've explained in the past. Borrowed money has been funding as much as one-third of China's tradable stock market, according to David Cui, equity strategist at Bank of America/Merrill Lynch.
As a round of margin calls by banks and brokerages last week sucked up this speculative trade, it effectively kicked out the engine driving China's stock rally.