The next 24-hour period will be one of the longest of your life—literally.
This is because at 23:59:59 UTC on June 30, there will be a leap second. Instead of ticking from 23:59:59 to 00:00:00, clocks that keep UTC—the international standard for time—will make a one-second detour to 23:59:60, a time that is typically impossible to display on an analog clock face. It's also a time that is impossible to comprehend for many computer systems, leaving open the possibility that today could be plagued by technological outages.
The extra second is meant to keep UTC, based on atomic clocks which are perfectly constant, in line with the earth's speed of rotation, which isn't. As we've explained in detail, however, the world's official timekeepers are starting to think that this kind of adjustment isn't really necessary.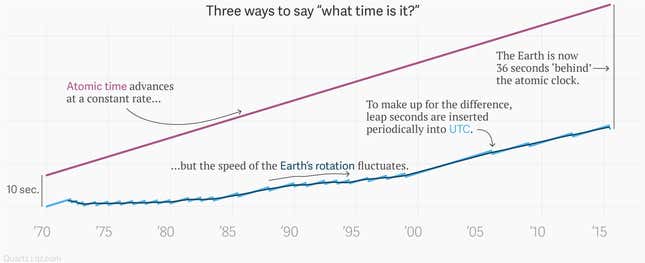 The last leap second was inserted in 2012 and caused problems with systems relied on by Qantas, Reddit, Yelp, Foursquare, and Gawker, according to contemporaneous news reports. That insertion came on a Saturday, when many businesses, including financial exchanges, are closed. This time around is different; midnight UTC is when Japanese and Korean markets open for trading and some after-hours trading continues in the Americas. Exchanges in both regions have taken measures to try to ensure a smooth transition to the adjusted time.
Read more about the leap second, it's precise origin, and why it should be abolished.