Credit card companies really, really, really want Americans to take on more debt.
So much so they're sweetening up their offers to lure American consumers  into opening as many new cards as possible.  
For instance, customers opening up a new Chase Sapphire preferred card now get 40,000 travel points (equivalent to $400, or $500 worth of travel)—as long as they're willing to charge $4,000 on their cards within the first three months.
Offers for new credit card customers in the US jumped by 40% on average from September 2013, according to new research from Japanese investment firm Nomura. The largest jump came from Capital One, which increased its average welcome offer to $150 in cash for signing up, from $50.
And credit card offer mail volume has been rebounding (pdf), reaching more than 300 mail offers a month.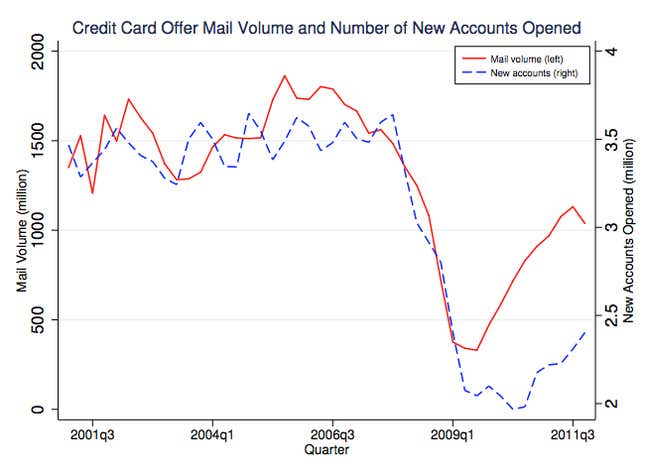 While credit card usage is climbing steadily, it's clear Americans are still hungover from the 2008 financial crisis when jobs dried up and consumers pulled back on their spending. Worried about the economy, Americans began paying off their debt and cutting up their credit cards.
The average number of credit cards held by Americans sunk to 2.6 last year, the lowest Gallup has recorded since it began keeping track in 2001.
As of 2014, 28% of Americans don't own a credit card, up from 22% in 2008. Plus, the proportion of people who say they pay off the full amount on their balances each year has jumped to 48%, from 37% in 2004, Gallup found.
What's more, credit card delinquency rates are looking pretty low.
As credit cards race to attract borrowers, they're likely to get even more generous with reward programs and welcome bonuses. That's good news for US consumers—as long as they can pay back what they've borrowed.