China may be losing its position as the world's factory. Foreign direct investment (FDI) into China in 2012 fell year-over-year for the first time in three years. At the same time, outbound Chinese investment grew sharply, government data released today shows. The figures signal that investors are less keen on China's manufacturing sector but, perhaps more importantly, that Chinese investors are aggressively taking their money abroad.
Chinese outward foreign direct investment increased 28.6% in 2012, to $77.2 billion, as Chinese investors put money into over 4,400 companies in 141 countries and regions. By contrast, investment into China fell 3.7%, to $111.7 billion, for the full year. The month of December marked the 13th decline of FDI inflows in 14 months and investment into China's services sector outpaced manufacturing for the second year.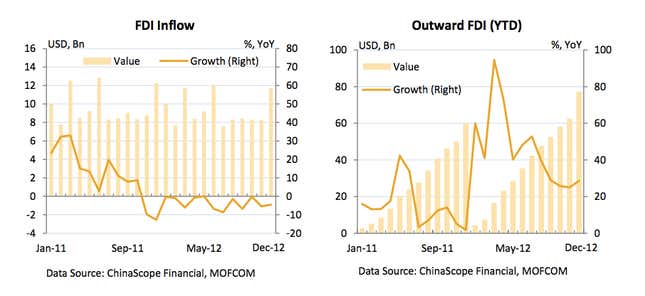 A slow global economy has meant that Chinese investors are snatching up undervalued assets, helping China finally make good on the "going out" policy it initiated in 1999. Chinese FDI in the US, for example, hit a new record last year through big acquisitions and investment in new projects. Deals made by Chinese companies in the US in 2012 were worth $6.5 billion, a 17% rise from the previous the record of $5.5 billion in 2010, according to research firm Rhodium Group in a note released today. (One of those deals was Dalian Wanda's purchase of AMC Entertainment, making the Chinese conglomerate the world's largest owner of movie theaters.)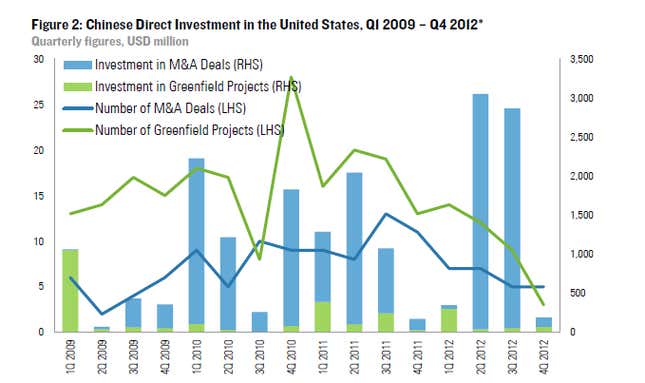 This could be a good thing. More outbound investment can help China move beyond being the world's factory, a goal of the Chinese government, which has called its current economic model unstable and unsustainable. Investments in the US this year were in oil and gas extraction and advanced manufacturing operations, ventures that can help Chinese companies move up the value chain, Rhodium notes.
That should only accelerate. Chinese outbound investment is expected to grow in 2013 and beyond. Rhodium expects China's cumulative global foreign direct investment to reach $1 trillion by 2020. In the US, Chinese acquisitions currently waiting for regulatory approval add up to nearly $5 billion, the group points out. China's new leaders are devising ways to help Chinese people better invest abroad, like creating a new unit of its foreign exchange regulator to direct more of the country's $3.3 trillion in reserves to Chinese companies expanding overseas.