While many of his peers get their sense of achievement from online video games, Li Shengyao, a 21-year-old sophomore at the Shanghai University of Finance and Economics, gets it from playing the stock market. He describes himself as a short-term trader who "can't stop my fingers from making orders."
Li spends at least three hours every night dissecting day-trading activity and company disclosures to prepare for the next morning. "When everyone else is losing like a dog," he said. "I'm still making money."
One thing Li is not: an outlier. In China, it's surprisingly common for college students to be active traders on the nation's volatile stock markets, often with their parents' money and consent, and sometimes at the expense of their studies.
Chinese stocks had a remarkable run until recent corrections, leading many to speculate the markets had become divorced from the reality thanks in part to an influx of uneducated investors. But college students like Li were also flooding into the markets. As the state-run Xinhua news agency reported last month, a recent survey showed 31% of college students invested in stocks. Of them, 26% put more than 50,000 yuan ($8,058) into the activity, and 76% got the money from their parents.
Li said he entered the stock market at the end of last year, using 20,000 yuan ($3,223) he'd earned from part-time jobs. By the end of June, he'd grown that investment to 300,000 yuan ($48,347). "I'm obsessed with stocks," he said. "Of course, they have paid me back."
Even during the recent market corrections, Li claims to have not lost money because he "kept switching among different stocks, and partly due to my good luck, too," he said on July 2. He said he even achieved a profit of 100,000 yuan ($16,116) amid a huge weekly decline of the Shanghai Composite Index.
He made his first big win in the stock markets when a state-owned train maker resumed trading after its merger announcement. He lost ground in January when securities regulators clamped down on margin trading, but said he's rarely missed since then.
There is a tradeoff, however: His grades have dropped. He frequently checks stock prices during class, which he sometimes skips altogether. "I suffer mood swings with the ups and downs of the indexes," he added.
Li believes his interest in stocks comes from his father, who has been in the markets since the early 1990s and even went on indefinite leave to become a full-time home-based investor. Li said the value of his father's portfolio reached nine digits last month.
"He doesn't support me, though," Li said. "He thinks I should focus on long-term development rather than earning these petty profits."
Students teaching students
Li is involved in investing in more ways than one. As part of the Stock Studies Society at his university, he gives free investment lectures—and personal stock recommendations—to about 50 fellow students. He does this about four times per semester, reserving a classroom for the purpose. So far this year about 300 students, a record, have signed up for his classes.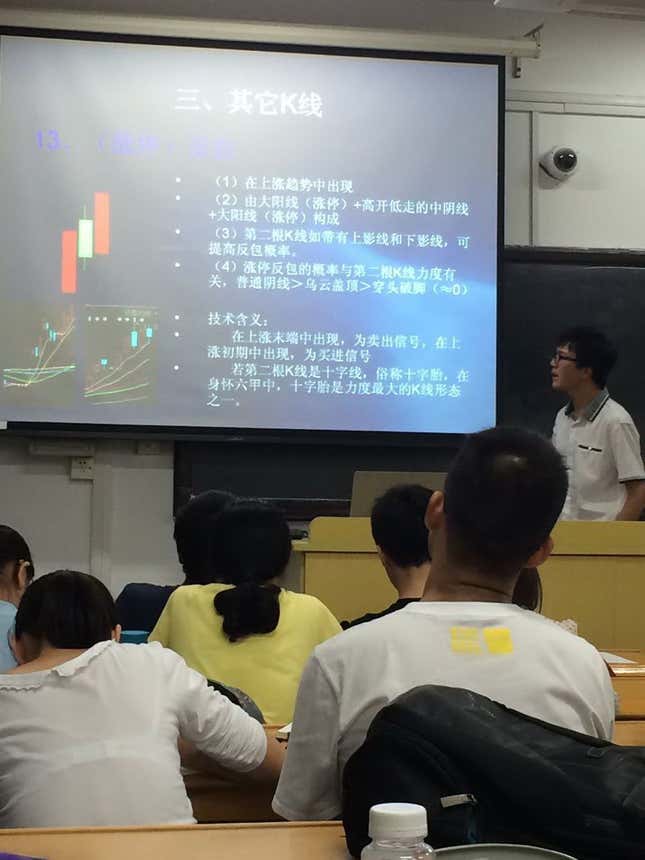 It's not just finance students getting involved in investing. Min Yezhu, 22, a recent graduate and translation major from the Chinese University of Hong Kong, entered the stock market in May. She did so after seeing on WeChat (a social media platform) that many of classmates were doing the same.
But Min's desire to "earn some pocket money" has been hampered by the current stock market corrections. "I don't even dare to look at my account now," Min said during the morning session on June 30, when the Shanghai Composite Index once again fell below 4,000 points. She said she might have already started to lose her principal of 45,000 yuan ($7,252) that her parents gave her.
Lv Ruizhi, a 20-year-old student majoring in civil engineering at Shanghai's Tongji University, also invests in stocks. He said how much money a student can put into stocks relates to how much risk his family can stomach. "I got 20,000 yuan from my parents, which means I can afford to lose it all," he said.
Finding stocks more interesting than his major, Lv started from nowhere and ended up learning how to analyze company fundamentals and read candlestick charts by himself. Besides his own account, he now runs five of his friends' accounts, which add up to 600,000 yuan ($96,695). "They have agreed to be responsible for their own profits and losses," Lv said.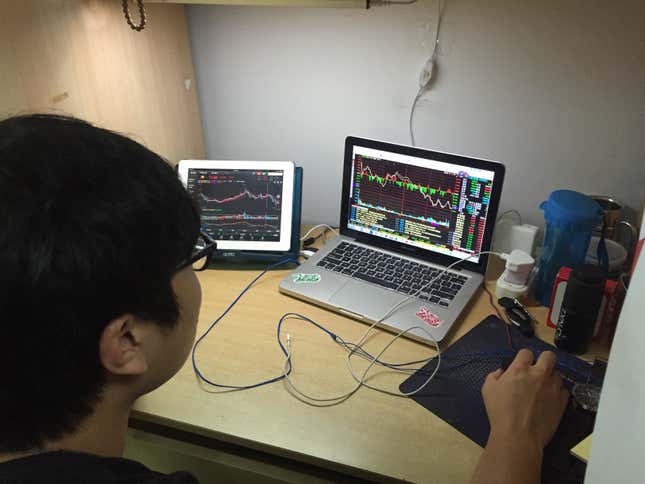 Trust in Xi
A random survey of 300 university students made by the state-run China Youth Daily in April found that 33% of respondents invested in stocks. Of them, judging from the replies, 47% know how to read candlestick charts, 20% understand stock-market terminology (bull position, long sale, and so on), and more than 60% choose stocks following government policies.
Min said she has been following in the footsteps of her father, also an investor, by closely watching the 7pm daily news program on Chinese state broadcaster CCTV, which mostly reports what China's top leaders said or did that day. Min and her father theorize that stocks in the sectors mentioned in the broadcast will rise.
"How far the stock market can go depends on how good the leadership is," said Li, who believes president Xi Jinping's performance has so far been much better than his predecessor's.
Li said the government will keep the bull market running and will not stop until the Shanghai Composite Index hits 6,124 points again—a historical peak reached in October 2007. And then, he believes, it will go on to reach even greater heights.