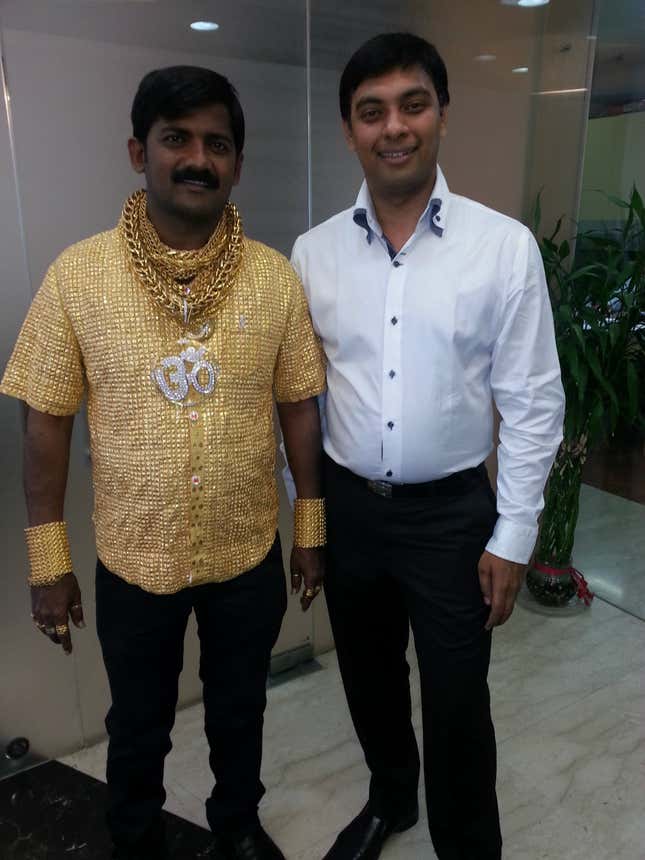 This gold shirt and its $250,000 price tag gave a businessman from Pune, India, his 15 seconds of fame last week. But the garment's maker wants his role to be indelible.
That's why Tejpal Ranka, the owner of Ranka Jewellers, has applied to both the Guinness Book of records and India's equivalent, the Limca Book of records, to list it as the world's heaviest gold shirt at 3.326 kg.
It was commissioned by Datta Phuge, who runs his own finance company and calls himself "Gold Man." He is a regular customer of Ranka's and makes a piece of jewelry every year whose weight depends on profits logged.
In the early years, that meant gold chains with a weight of 200 grams, Ranka recalls. This steadily went up to about 700 grams. In early December, when Phuge arrived for his annual shopping, Ranka suggested they do something different. "We thought of various options and I said 'let's make a gold shirt.' We laughed at it initially but somehow came back to the idea.
India is usually the largest consumer of gold, but in 2012 China took its place as Indian demand waned against soaring prices of the precious metal. Still, Indians have a traditional fondness for gold, and in both urban and rural parts of the country, wearing a lot of gold is seen as a certificate of affluence. Phuge told a local news broadcast that he came from a financially weak background and always dreamed when he made money he would buy a lot of gold.
So that might explain why, at the end of that December meeting, "Phuge was very excited about it," Ranka says. He wanted the shirt to be ready by the 21st in time for his wedding anniversary, but making the shirt took longer than anticipated. Ranka's first step was trying to find how a metal could be made to behave like a fabric. "The idea was that it should be a shirt that is both wearable and comfortable," he says. He assessed a lot of gold meshes which could be used, but they were all cut by Italian machines and had a very "western" look. Indians consider real gold to be 22 carats because it is purer (less of other metals in the mixture) and has a literal golden sheen to it.
Of the Italian stuff, Ranka says: "It wouldn't have suited Phuge's looks." So then he began researching closer to home, finding books with old photographs and details of old Indian maharajas. The concept eventually emerged from the body armors that kings wore and the jeweler decided that the gold would be cast over fabric. He imported the fabric – a thick velvet like the kind used to make a hat would be able to carry the weight of the gold. Then he looked in his workshop for old dyes that could be used to give the shirt a "traditional maharaja look." The 39-year-old Ranke then roped in a tailor to understand how a shirt is made.
In all, it took his 15 craftsmen about 16 days, working up to 16 hours a day, to make the shirt. It is 22 carats gold and has 14,000 pieces held together by 100,000 rings. The garment also has six Swarovski crystals for buttons. They also made a belt of gold, of course, to go with the shirt— which weighs an additional 375 grams. The final concoction was way beyond the original estimates of 2 kg to 2.5 kg.
The shirt was at last delivered on the 26th of December. Phuge was "elated" when he saw the final product. "He said the wait was worth it: "People buy cars and go on holidays abroad. For me, gold is the ultimate passion. That is the reason I have spent a whopping amount of money on the shirt. I am looking at it as an investment which will keep appreciating."
In the two weeks Phuge has had the shirt, he has worn it to three weddings and has been the center of attention. (No word on the brides' reaction to being upstaged.) The shirt has brought unprecedented attention to the jeweler too. Ranka persuaded Phuge to leave the shirt at his store for a few months so that customers could come and take a look at it. On weekends, the store sees 700 to 800 customers walking in. Many photograph themselves standing next to the shirt.
"We are receiving quite a few inquiries now. Not for shirts, really, but people want to make smaller versions or a shawl of gold or a blouse for their little daughters," says Ranka. So far, none of these inquiries have converted to actual orders.
Next in Phuge's glittering to-do list is a mobile phone made of gold. Cost: $8,000. This was originally to be made along with the shirt, but Ranka estimates it will take another month; he is having trouble making the back case to fit the phone. For all his love of bling, Phuge is hanging onto an old Nokia.