Carli Lloyd's amazing hat trick in a mere 16 minutes defined the US victory over Japan in the World Cup finals on July 5. The performance, which netted Lloyd 50,000 Twitter followers and crashed her website, is guaranteed to fatten her bank account with sponsorship cash—and it should. Lloyd has been a consistently tough competitor and guiding force for the US team, which fought hard at every step of its victory. She's the kind of player, and the US the kind of team, that brands should be rushing to align themselves with.
Globally, women control more than $29 trillion in buying power and make 64% of purchase decisions for their households. At the same time, female athletes are drawing bigger audiences than ever. The women's World Cup final reached at least 20 million viewers in the US, making it the most-watched soccer event in US television history and giving it more watchers than the NBA and Stanley Cup finals.
Granted, women's soccer doesn't draw those kinds of ratings all the time, or even most of the time. Still, there's a massive, unjustifiable disparity in endorsement deals for male and female athletes.
Take Alex Morgan, the world's most famous and best-paid female soccer player. She'll make an estimated $2.8 million this year from endorsements. It's no small sum, but it's also nowhere close to what the top-earning male players get. Cristiano Ronaldo and Leonel Messi will make an estimated $27 million and $22 million, respectively, on endorsement deals alone in 2015.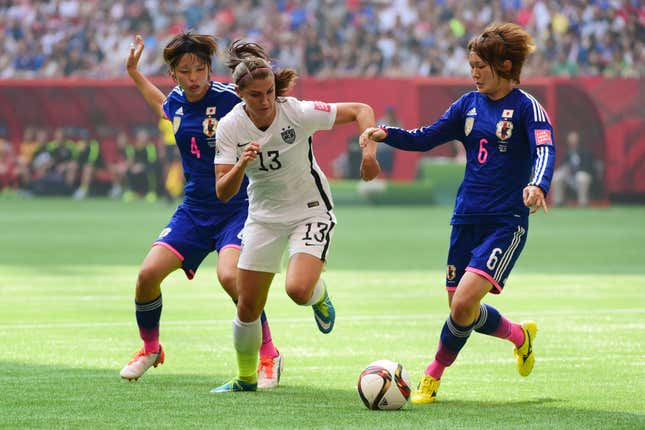 Of course, Ronaldo and Messi are in a different league than most athletes where earnings are concerned, so let's look at some other names. Zlatan Ibrahimovic, the Swedish striker at Paris Saint-Germain rumored to be considering a move to a team in the US, makes $6 million in endorsements, or more than twice Morgan's earnings. James Rodriguez, the Colombian player who made a name for himself with his brilliant play in the 2014 men's World Cup, brings in $4.5 million in endorsements.
If Morgan is earning just shy of $3 million, a player like Lloyd is undoubtedly making significantly less. Despite being a two-time Olympic gold medalist who scored in the Olympic finals in 2008 and 2012, as well as a consistent part of the US team's success, Lloyd has few marketing deals to her name. She's featured in some of Nike's Training Club marketing, and last week her agent inked a deal for her to represent Visa through the 2016 Olympics. But a look at the merchandise page on her website, which is far from what one might expect of an international super star, illustrates the point. It's maintained by Farro's Tees of Toms River, New Jersey.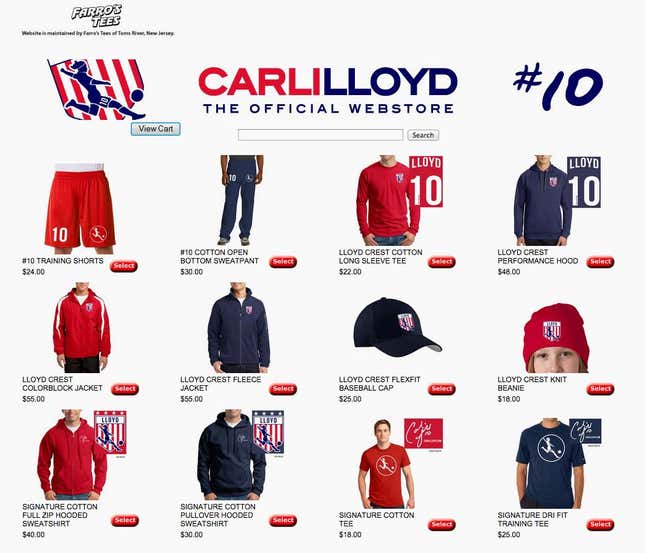 Nike, for one, understands the power of the women's market, which is why women are Nike's number one target group and why it believes it can add $2 billion in sales by 2017 by focusing on them.
Nike undoubtedly knows that women are the group that's made Skechers the number two sneaker company in the US, unseating Adidas even as Adidas spent millions on efforts to increase market share. But those efforts, such as sponsoring the NBA, were focused mostly on men.
What should that tell other brands looking to sign athletes? For starters, it's well past time to look beyond the men.