Thirty-three years after the BBC introduced the Micro, a rather un-micro computing device that used cassette tapes as input media, the British national broadcaster has released the final design for the BBC Micro Bit, a credit-card-sized computer that will be distributed to 1 million 11- and 12-year-old British school children later this year.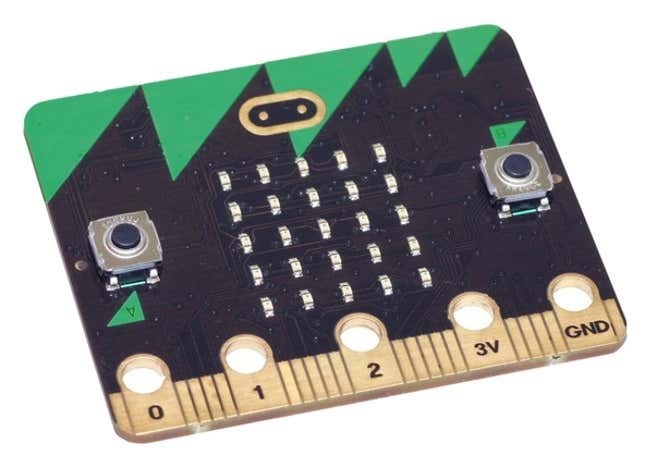 Today, like in the 1980s, digital literacy is an important item on the agenda of Western governments, which want to ensure that children are prepared for the jobs of tomorrow. But unlike three decades ago, today's BBC computers will be basic chipsets rather than fully functional computers with keyboards.
The Micro Bit, which is a mere 4cm by 5cm (or about 2in by 2in) and has 25 LED lights as well as two buttons, must be connected to a computer or mobile phone in order to be programmed. The idea is that it will be the first step towards learning how computers actually work rather than simply being users of computing devices.
The Micro Bit is the latest in a long line of bare bones computing devices made to teach young people to code. Perhaps the best known examples are the Raspberry Pi, itself inspired by the original Micro; Kano, a computer based around the Pi; and Arduino, a simpler, Italian circuit board that allows its users to connect to real world devices. But these can sometimes be too complicated for beginners. The Micro Bit is meant to be more of a starter device, and children can move on to the Arduino or Pi as they become more confident.
The Micro Bit is part of the BBC's Make it Digital campaign, and will include television and radio programs and online content to support the physical device.