UPDATE: NYSE trading restarted not long before 3:15 p.m. ET, after a roughly four-hour stoppage.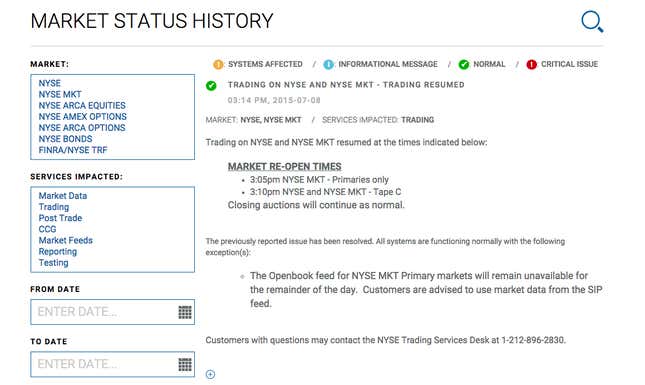 Earlier today, the New York Stock Exchange (NYSE) abruptly halted trading of all securities shortly before noon local time, calling it an "internal technical issue."
The top-line details:
NYSE said the issue "is not the result of a cyber breach."
Stocks stopped trading at 11:32am ET.
All open orders for trading on the exchange will be cancelled.
Nasdaq said it is operating normally.
The issue occurred a few hours after United Airlines experienced a disruption to its computer systems, though there was no indication that the two events are related.
The Wall Street Journal's homepage also went down around the same time as the stock exchange suspended trading. (It appears to be back up.) That, too, wasn't known to be related.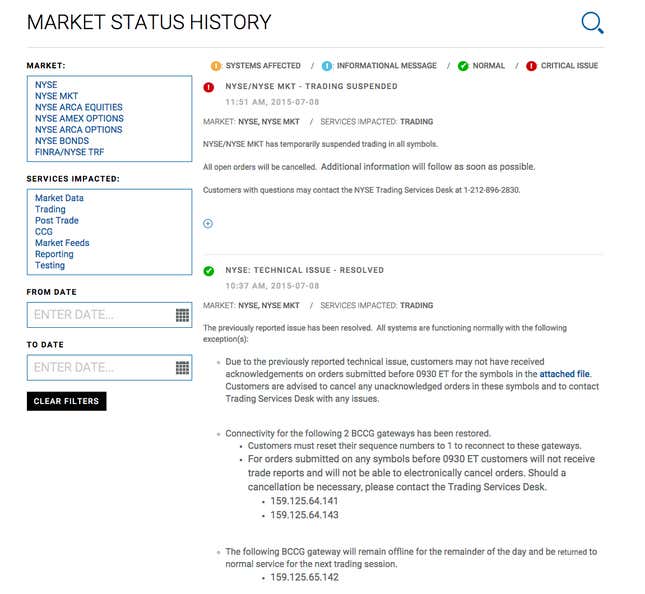 Technical glitches are not unheard of in US stock trading. In August 2013, electronic Nasdaq exchange flatlined. And famously there have been other trading glitches, such as the May 6, 2010 "flash crash." Last year, a technical glitch halted commodities trading the CME. Even the most liquid and highly traded market in the world, the US Treasurys market, endured something of a trading glitch last October.
But such outages have done much in recent years to erode confidence in US markets, especially from retail investors.
Today's unplanned halt of trading is somewhat reminiscent of famous "flash crash" episode. It came amid jittery trading brought on by the then nascent Greek debt crisis. The situation in Greece, which voted overwhelmingly against the measures accompanying another bailout proposal in a referendum Sunday, has made some investors a bit nervous. So has the plummeting Chinese equity markets, which have vaporized more than $3 trillion paper gains since benchmark indexes peaked on June 12.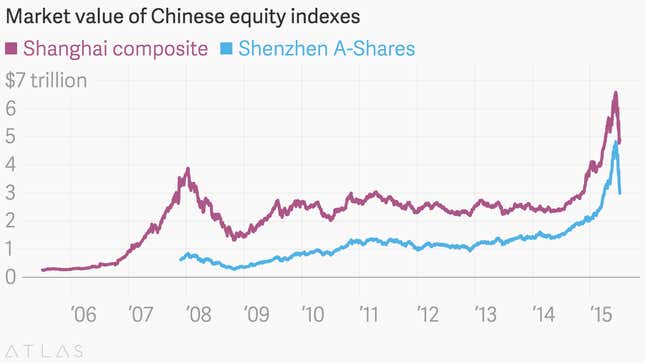 In recent years, some have noted the national security implications of cyber-attacks on financial markets in recent years. Today the NYSE stressed that the trading outage was not the result of a cyber breach. And the main outages in trading in recent years have been the result of technical challenges for the exchanges that crop up relatively regularly. For example, on October 30, 2014, network hardware failure at NYSE hampered reporting to its consolidated quote system as well as data feeds at its primary data center.