At last women can bare their nipples on social media—so long as they're anatomically male. In protest to social media outlets' double standards regarding images of men and women's waist-up nudity, some Instagrammers have posted photos of their bare chests with male nipples photoshopped over their own.
Can you believe that there are legal and illegal nipples? (Don't worry, @instagram – these are a man's nipples.) #freethenipplecampaign #freethenipple @freethenipple
A photo posted by Grü (@nannagry) on Jul 4, 2015 at 10:13am PDT
It's the latest move in the Free the Nipple campaign, which aims to destigmatize exposed female breasts online and in real life.
It started with a "digital pasty." On June 2, indie rock band La Sera re-posted a graphic on Facebook made by artist Micol Hebron in June 2014, an "internet appropriate male nipple template" that people could use to photoshop onto "offending female nipples," as Hebron writes on her personal site.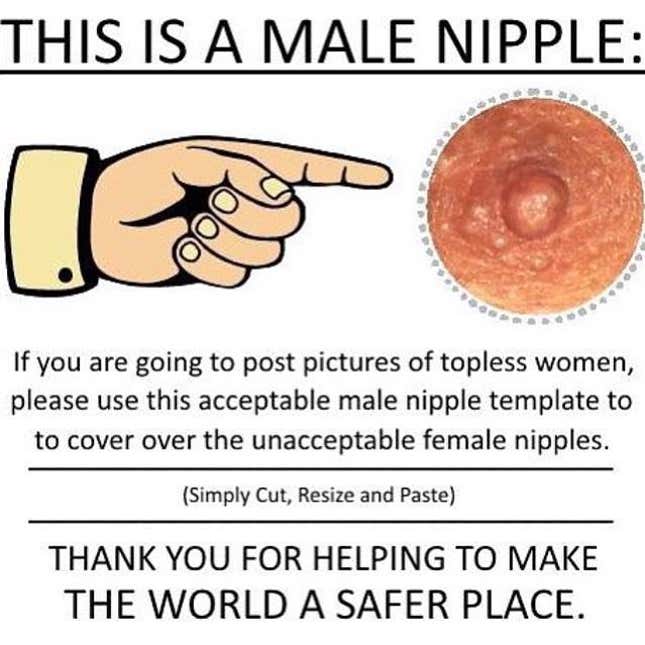 The post quickly gained traction on Facebook, and in response women posted photos on Instagram of themselves with the male pasties using the hashtag #malenipples.
I posted this one before, but the first time instagram took it down bc it was "uncensored", then I posted it with something over miley's nipples. Now I'm posting it with MALE NIPPLES over Miley's FEMALE NIPPLES, and @instagram isn't supposed to take it down since there's absolutely nothing wrong with male nipples, as opposite to female nipples, right @instagram? #instasize #freethenipple #freethenipplecampaign #malenipples #nipples #tits #feminism #feminist #equality #miley #mileycyrus #smilers #bangerz #bangerztour #bt

A photo posted by Forever in love w da queen (@prettymileyray) on Jul 8, 2015 at 2:34pm PDT

This one was reported again. So here it is with two MALE NIPPLES stickers that I put on to cover my illegal FEMALE NIPPLES! So now you can't say shit, this is so fucking wrong and this is not equality. #malenipples #freethenipple #freethenipplecampaign #freethenipple2015 #female #femalenipples #my #body #natural #fucksexism #sexism #feminist #feminism #bw #covered #with #nipplestickers #tydligen #buzzfeed ! @freethenipple
A photo posted by ♀a l i n e n i l s s o n♀ (@alinenilsson) on Jul 5, 2015 at 5:46am PDT

Don't report me for breaking censorship rules it's a male nipple it's fine😩😅 in all seriousness i love these pics by @adamrobertsonphotography 👸 #freethenipple #heforshe #itsjustabitoffun 😈

A photo posted by Jessica Lauren (@_jessdavies) on Jul 9, 2015 at 5:52am PDT
Writes one Instagrammer in her caption (translated from Norwegian): "Today we bought a new swimming pool, a so called Fill 'n fun pool. My sister refused to move when I said I wanted to take a picture of it to post to social media. Fortunately, I found a #malenippletemplate so I could still post it."
I dag har vi kjøpt oss nytt basseng, et såkalt Fill 'n fun pool. Min søster nekta å flytte seg da jeg ville ta bilde av det for å legge ut på sosiale medier. Heldigvis fant jeg en #malenippletemplate så jeg fortsatt kunne legge ut bildet. #basseng #dagensinnkjøp #funinpool #splashandplay #malenipples #freethenipple #notfemalenipples

A photo posted by Siri (@siribifaller) on Jul 3, 2015 at 9:18am PDT
Currently, Instagram's ban on female nipples includes everything but "photos of post-mastectomy scarring and women actively breastfeeding," and photos of nudity in paintings and sculptures. Facebook has a nearly identical policy.
Twitter's guidelines don't delve specifically into the issue of nipples, offering instead the suggestion to users to consider marking nude content as "sensitive." Its video-sharing site, Vine, defines acceptable nudity as "primarily documentary, educational or artistic in nature" and not sexually provocative (i.e. breastfeeding).