Amazon is planning on having some sort of self-flying drone delivery system in place in the next year, but Swiss Post—the national postal service owned by the Swiss government—could beat it to the punch. On July 7, Swiss Post announced that it will be testing out a drone delivery system this month.
Swiss Post has been working with Matternet, a drone manufacturer from California, to test out the feasibility of a drone-based mail delivery system. For now, it's going to use Matternet's ONE drone, which it says can autonomously carry up to 1 kg (2.2 pounds) for more than 10 km (6.2 miles) on a single charge.
Dieter Bambauer, postal logistics head for Swiss Post, compared the use of drones to deliver mail to the "quantum leap" that rail transport represented in the past. He said in a news release that currently, residents in certain mountainous parts of Switzerland, like Grindelwald, still get their mail delivered by sled in the winter. Having drones that could deliver to a customer's GPS coordinates would come in handy on snowy days in the Alps.
"Swiss Post delivers reliably, no matter what the terrain – even in Switzerland's challenging geography. We have always done this. What has changed regularly over the past 160 years is the technology we use to accomplish this."
Bambauer said that e-commerce is driving the need for faster, more frequent deliveries. "We assume that by 2020, up to 40 percent of the sale of non-food products will take place online," he said.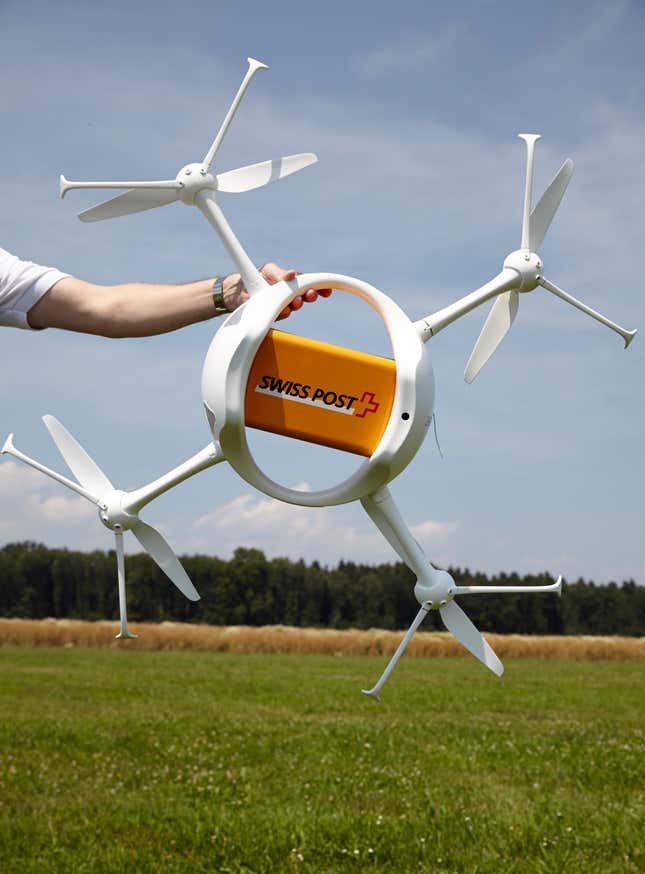 Amazon itself is experimenting with using drones to deliver parcels to people within 30 minutes of their order, and working with regulators to pave the way for such a system. Both Amazon and Swiss Post have communicated timeframes of about five years before its technologies see widespread use. Swiss Post said that "technical restrictions," such as the battery life of modern drones, will most likely slow down widespread adoption. (Of course, better batteries are always in the works.)
While Amazon has a head start on the Swiss Post—it started testing back in 2013—the postal service's relationship with its government is obviously a bit tighter than Amazon's relationship with the US. Who knows: If Swiss Post's drones pass their tests with flying colors, Swiss Post might be able to ask the Swiss aviation authority to let it set up a nationwide delivery system before Amazon can.