McDonald's just got a lot friendlier to chickens—at least to those in New Zealand, anyway.
The fast food giant announced that its New Zealand restaurants would switch to cage-free eggs by the end of 2016. The company has 164 locations in the country, serving almost 13 million eggs annually in menu items like Steak & Egg Brekkie Wraps, Kiwi Big Breakfasts, and, of course, its signature Egg McMuffins. While the company has more than 32,000 locations globally, Becca Hary, Director of Global Media Relations for McDonald's, told Quartz the New Zealand change is underway "because the egg producers in New Zealand are able to supply the McDonald's system from free range sources."
(The terms "free-range" and "cage-free" have different meanings in the US, mostly regarding outdoor access. However, McDonald's in New Zealand has used both terms, describing their eggs as "free-range" on its website and also telling Quartz the eggs will be "cage-free." Hary was unable to clarify the specifics of how the chickens will be raised. In New Zealand's Animal Welfare (Layer Hens) Code of Welfare 2012, "free range" is used to describe hens raised in barns with outdoor access; the term "cage free" is not used. This post will be updated when more information is provided.)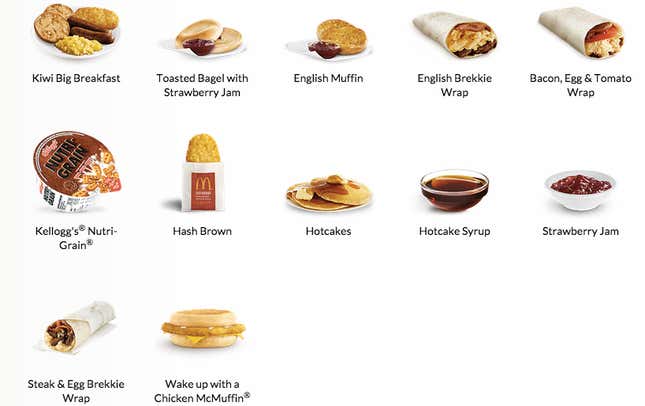 The 18-month rollout is meant to give suppliers a chance to plan for the increased demand, Patrick Wilson, McDonald's NZ managing director, told the country's 3 News. Once in place, the chain will be purchasing about 9% of the country's free-range egg supply.
The decision was applauded by Royal New Zealand SPCA, an animal welfare group. "This commitment from McDonald's will provide a real boost to free-range egg production in New Zealand and enable more farmers to transition to free-range with the confidence of knowing there is a strong demand for their products," Ric Odom, chief executive of RNZSPCA chief executive, told 3 News.
The country's Green Party animal welfare spokesperson also expressed support for the decision, adding that the company should change other sourcing practices as well. "The next logical step would be for McDonalds to use free-range chicken meat and bacon across its food products," she said, "but this is a great start."
The 18 McDonald's outlets in Christchurch and Dunedin—two of the largest cities in the country's South Island—have been serving only free-range eggs since 2009.