Rejection isn't the end of the road.
Just ask Brian Chesky, CEO of the home-rental site Airbnb. Chesky recently published a post on Medium including five rejection emails from Silicon Valley investors who passed on the opportunity to get in early at Airbnb. At the time, the fledgling company was seeking to raise a $150,000 seed round at a $1.5 million valuation. In other words: That $150,000 would've meant a 10% stake of Airbnb, which is worth $25 billion today.
Some of the emails below (with names of investors and firms removed) read just like boiler-plate rejections—not our area of focus, the market doesn't seem big enough, etc. But it's hard to tell the real reasons they passed on the company. With young startups, an investor is as likely to write a check based on his or her impression of a founder than anything else.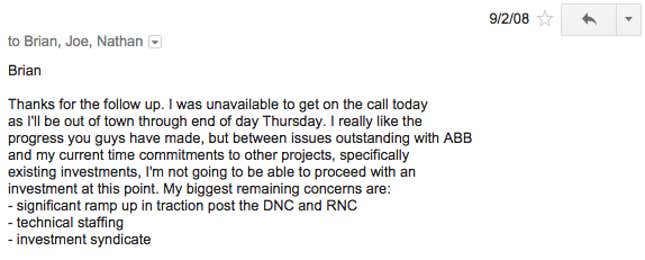 While some of these investors might kick themselves in hindsight, the reality is venture capital is all one big gamble. Even among esteemed VC firms, only a tiny percentage of companies that get early-round investment go on to become unicorns, and by some estimates three out of four startups fail outright.