Netflix shares have more than doubled in 2015, placing the stock at a split-adjusted, all-time high of more than $100 a share. This makes it the best performer year-to-date in the S&P 500 index, which for comparison's sake has risen just 2.4%.
Here's a look at the long view.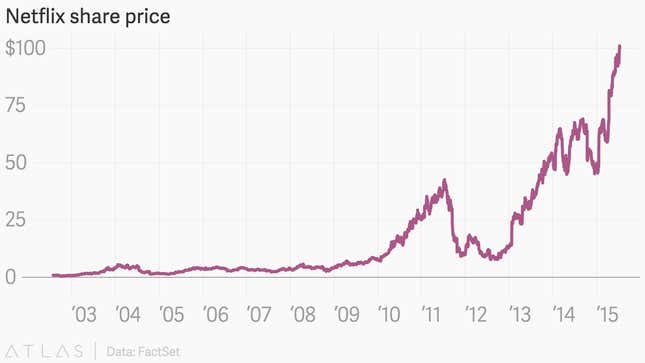 If recent history is any guide, Netflix's share price is about to change—drastically. The company's quarterly earnings reports, the latest of which is due after the close of trading today (July 15), have a habit of rocking this stock violently. The disappointing subscriber-growth figures contained in an earnings report in October 2014 sent the shares plunging by more than 25% in after-hours trading on the day of the disclosure. In April, the stock rocketed higher after the company's first-quarter report showed robust subscriber growth.
This makes sense. For stocks like Netflix, the bottom line—profit—isn't really the bottom line. What moves growth stocks like this one are growth prospects, not earnings.
Wall Street analysts suggest that Netflix is going to post another quarter of strong subscriber growth when it releases its numbers today. With optimism this high, the faintest whiff of a miss on that measure could crater the shares and create losses for those who've only jumped on the Netflix bandwagon recently.
For now, though, the stock's flying high enough to be one of the most overvalued names in the market—that is, if you're willing to look at it based on conventional valuation measures such as price-to-estimated earnings over the next 12 months.