It's no secret that George Lucas was inspired by Japanese filmmaker Akira Kurosawa when creating Star Wars. Now Lucas's films are inspiring traditional Japanese art, with scenes from his sci-fi universe depicted on ukiyo-e woodblock prints, a traditional craft dating back to the 17th century.
The prints are designed by artist Masumi Ishikawa and painstakingly carved by master engravers (video). Scenes include Imperial snow walkers on the march, Queen Amadila with R2-D2, and Darth Vader surrounded by flames.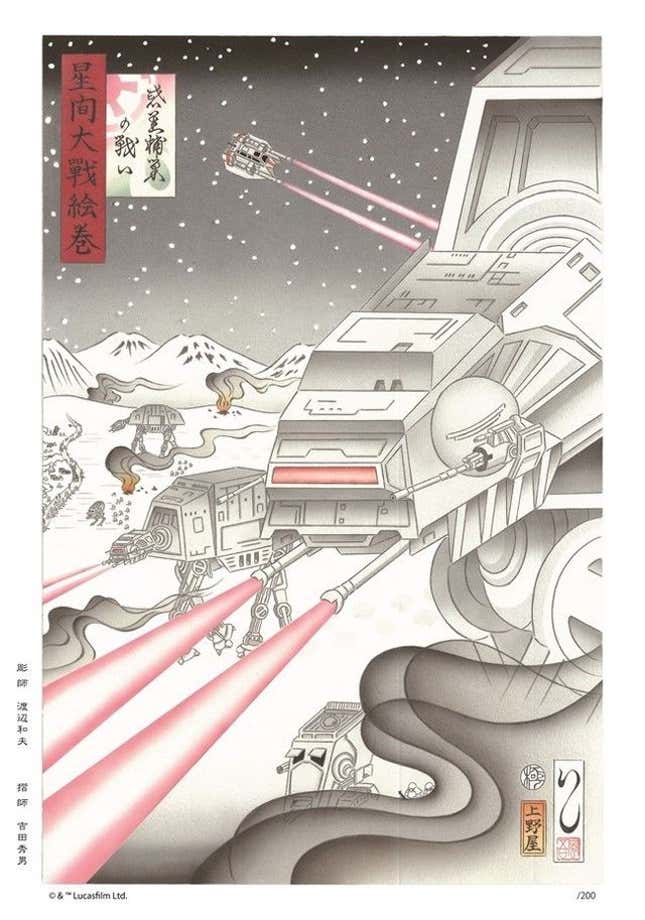 The project is featured (link in Japanese) on the crowdfunding site Makuake, where it successfully raised nearly 12 million yen, about eight times its original goal. A 54,000 yen ($435) contribution to the project counted as a purchase of a print.
The prints will join the universe of Star Wars collectibles, which have a serious following. In an auction earlier this year an anonymous bidder spent 18,000 pounds ($28,000) on a Boba Fett figure that cost less than two pounds when it sold originally 35 years ago.