The English writer Polly Samson is virtually unknown in America. But that doesn't mean you're not familiar with her work. The reason? One iconic name: Pink Floyd.
In 1994, Samson penned the lyrics to Pink Floyd's multi-platinum album The Division Bell, as well as the group's final single from last year, "Louder Than Words." She's also the writer behind husband (and former Pink Floyd guitarist and primary vocalist) David Gilmour's 2006 hit solo album On An Island and his forthcoming Rattle That Lock, due out September 18th.
Samson, a highly-regarded writer in her native England, is also the author of the novel Perfect Lives, as well as the short-story collections Lying In Bed and Out of the Picture. Her latest book The Kindness, out today, marks her debut in the American market.
"It's quite exciting," Samson told Quartz. "It took me four years of writing. I'm very obsessive and I was absolutely focused on what I was doing, so it's great to have come to the end and have had it be successful (in England) and now, to have it released in America, is just wonderful."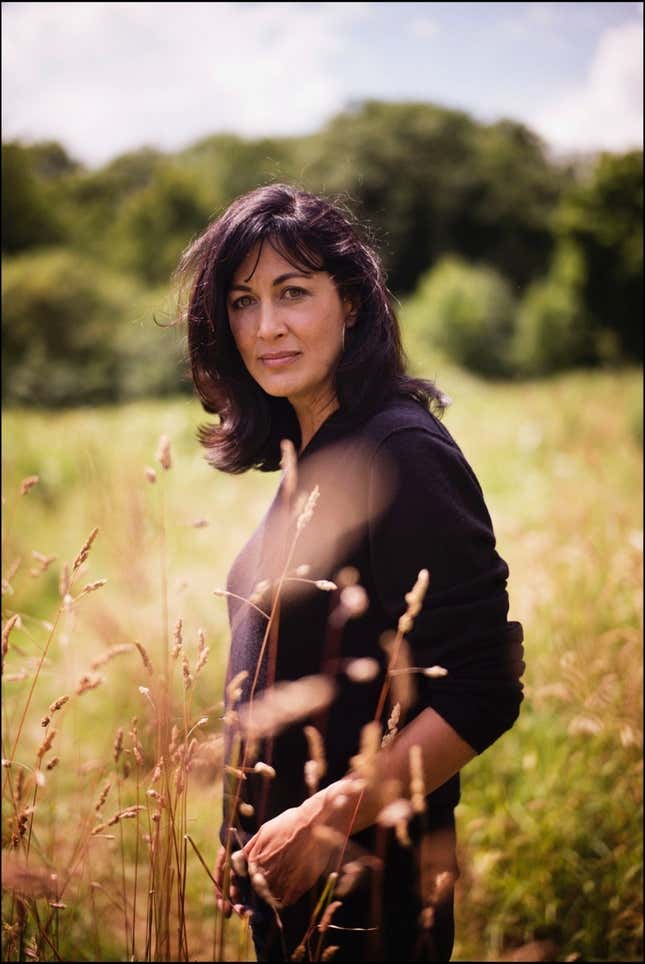 In an era of disposable media, The Kindness is chock full of old school, meditative prose and universal themes, while still remaining easily digestible. It's a novel dealing with unforeseen consequences, no matter how well-intentioned, told via interlocking stories spanning 23 years. Narratives move between perspectives, and from past to present. Each section sheds new light on what came before, with the full picture becoming clear only at the end.
"I think my writing styles are converging," Samson said, with a chuckle. "But that may just be because of the way working on the book and David's album followed each other so closely. The day I typed 'The End' on The Kindness, I started working on lyrics for David's album."
"She's turned into a formidable writer," Gilmour told Quartz. "She really understands herself and what she's trying to do and how to put a lot of weight and a big subject into very few words but have them be poetic, powerful, and meaningful at the same time. That's not easy."
The Kindness appears at first to be a straightforward story of loss, but Samson's eye for the seemingly small ups and downs of everyday life, as well as her masterful voice and timing, give The Kindness a fascinating complexity that it nonetheless wears lightly.
As engaging and relatable as Samson's prose is, she's also not afraid of tackling big ideas.
"In the book, the main character is a Milton scholar, and so, in my obsessive way, and also by way of putting off the evil day of starting to write, I spent a year reading Milton, because I'd never read his work," Samson confessed. "I thought, 'I can't have a Milton scholar without having some knowledge of Milton, so what I will do is just read Paradise Lost.' I got the Longman Edition, which has got all the hand notes, so that pointed me toward classical and Biblical references.I thought I was putting off the writing of the book for a year, but actually, in the end, it became part of the fabric of the book."
It also inspired Samson's lyrics for the title track from Gilmour's Rattle That Lock, due out in September.
"I got to Book Two of Paradise Lost, which is the book where Satan and the fallen angels go from the burning lake in Pandemonium, have the conference of devils, and then Satan goes to heroically challenge God's will," Samson explained. "It's this journey through night and chaos, so all the words in that song—chaos, night, sin—you wouldn't need to know that they're from Paradise Lost, but they are.
"That's an example of where my writing as a fiction writer and my writing as a lyricist absolutely got married in a rather wonderful way, I think," she noted. "So yes, one bit of work feeds another bit of work in a great way. For me, it was sort of a wonderful moment. Even though with both my book and that song, no one actually needs to read Paradise Lost."
Samson and Gilmour collaborate in other ways as well.
"We have a sort of agreement between us that, if I'm writing a book, he's not making an album, and if he's making an album, I'm not writing a book," Samson explained. "We are like co-parents to each other's projects. But even more importantly, when I'm writing, the words on a page don't work for me unless I read them aloud. So, when I'm working on something, I read what I've written every night to David, and he has things to say and is incredibly helpful. And I'm involved in the whole process of his work."
Gilmour is a notoriously reluctant lyricist, but he also isn't a very talkative guy. That's fine by her, Samson said, especially when she's in a creative mode.
"It would be so annoying if he were someone who spoke a lot," Samson said. "I'd have to just not be around him, because I don't want people talking to me when I've got a whole imagined universe in my head… He gives me the space to think. It's especially wonderful because a lot of writing isn't just when you're sitting at the computer."
Using a collaborative approach for their creative projects has become something of a family necessity. Samson and Gilmour have three children together, as well as five others from previous relationships.
"I think that 'tag team' approach we've used has been because we have so many children," Samson said. "Our youngest is 13, and everyone else you could more or less call adults now. We always have that feeling that, in a way, it's a sort of a luxury really to be able to have one of us focusing on work at a time… we had the luxury of saying, 'Okay, one of us obsess at one time and another of us obsess next.'"
"There have been times when Polly has been writing, or we've had important exam years with the kids, and I've thought, 'My priority shouldn't be me, 100 percent, at this time,'" Gilmour told Quartz, in the most un-rock star of ways. "I have other priorities than my music which are more important at this stage of my life."
But for fans of Samson's writing, or Gilmour's music for that matter, Samson said that, with the kids growing up, the creative pair is even more likely to work on projects in tandem.
"I think we're sort of free of this idea of one of us having to be constantly on call for the children," Samson said, as the Quartz interview wrapped up. "I think suddenly we both feel incredibly free of it. So yep, lots more."