What happens in China after an amateur sex tape goes viral online? There has been an online carnival of memes and jokes after a sex tape was shot in the fitting room of a Uniqlo clothing store in Beijing. Censors also scrambled to ban the video, and five people were arrested.
But the Uniqlo tape, which has been seen by hundreds of millions of people around the world, may also have an unexpected impact on the increasingly dire plight of factory workers in China. It is being used to draw attention to a Chinese factory in Shenzhen, where the low-cost Japanese fashion retailer Uniqlo's products are made.
Hundreds of workers at Shenzhen Artigas Clothing & Leather, a factory that produces clothes for Uniqlo been on strike since June 8, because they fear the factory will shut without paying pensions they are owed or severance. Workers at factories that make Uniqlo clothes in China have been in the spotlight this year after one investigation found they were drastically underpaid compared to their peers, and sometimes work over 120 hours of overtime a month to make up for it.
The Shenzhen strike didn't garner much attention in China until labor activists linked it to the Uniqlo sex video. "Shall we go to Uniqlo to have sex, or hold up placards?," one activist wrote on Twitter-like Sina Weibo on July 16, one of several similar messages.
Quickly, Chinese media and internet users began to follow the strike.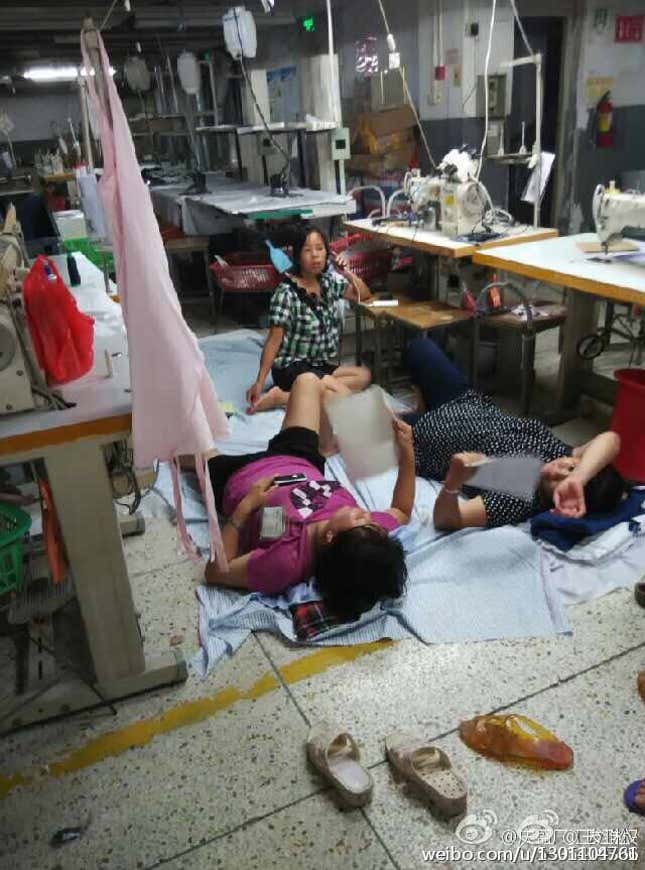 More than a month after the protests started, over 200 employees at the factory are sleeping there to ensure machines won't be moved out and their jobs taken away without compensation, the National Business Daily reported on July 17.
Employees want the company to pay delinquent pensions and pay severance when the factory relocates, which is common in China (and much of the rest of the world).  The highest the company is offering is 800 yuan, or approximately $129, for every year worked, which workers think is too low to accept.
Relating the two Uniqlo incidents together, one blogger commented on online forum Tianya (an archived page is here, the post has been deleted): "They can not even go to the Uniqlo fitting room in Sanlitun to enjoy the sex, as they may not even able to afford the train tickets from Shenzhen to Beijing."
Pictures of workers at Artigas holding up banners at the factory asking to negotiate are circulating online: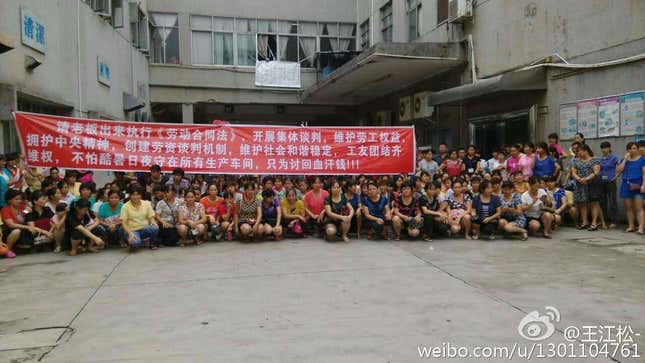 And Chinese Uniqlo shoppers are getting involved. One Weibo user posted a picture from in front of a Uniqlo store here holding a sign that says "Fulfill social responsibilities, don't be an unscrupulous enterprise." She wrote she won't buy T-shirts that "are soaked with workers' blood."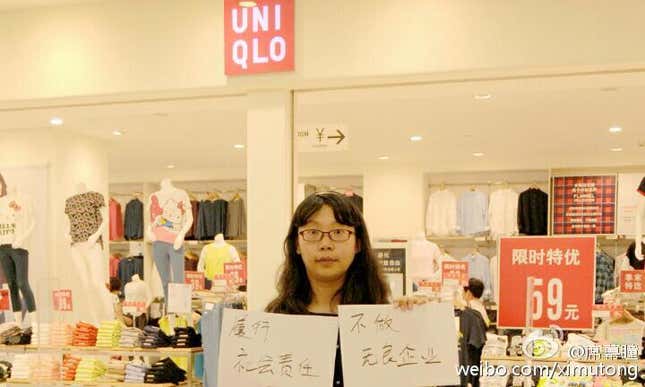 Fast Retailing, owner of the Uniqlo clothing brand, issued a statement on July 17 saying the company has asked Level Style, which owns the Artigas factory, to "resolve the strike in a peaceful manner." It said no workers have been fired because of the upcoming factory relocation.