The story has a familiar ring to it: A beloved children's book author long out of commission; mysterious lost scribblings in an old box; questions over the author's true intentions; and the decision to publish, decades after the last book.
But this time it's not Harper Lee's Go Set a Watchman (and let's keep our fingers crossed that none of the characters turn out to be racist). The newly discovered work is drawings by Theodor Seuss Geisel, the cherished author and illustrator known to the world as Dr. Seuss.
The author of The Cat in the Hat and over 40 other books died in 1991. In October 2013 his widow, Audrey Geisel, unearthed a box of his discarded sketches, and discovered in it a half-finished story called "The Pet Shop," accompanied by 16 black-and-white drawings, reports The New York Times.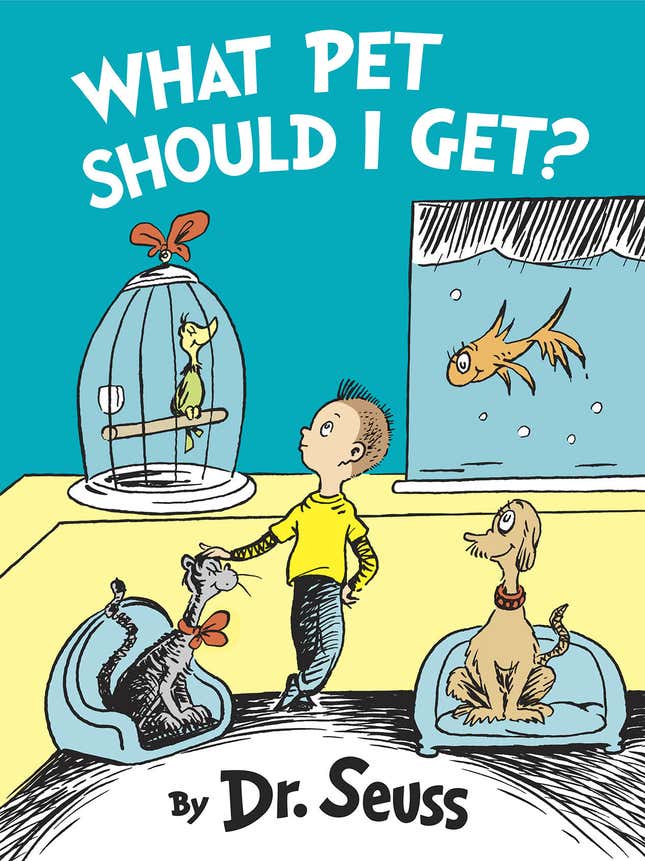 The book, now titled What Pet Should I Get?, was colored by designer Cathy Goldsmith, the last person still at Random House to have worked directly with Geisel, and is set to be released July 28.
In anticipation, the Times has released six alphabet cards, also found in the box of illustrated rhymes, and previously unpublished.
And that's not the last of it: Random House has announced two other books to be published from newly found materials, with release dates unknown.
Oh, the places you'll go!