It's been a while, but Gucci's revenue is growing again. Kering, the luxury group that owns Gucci, Saint Laurent, and other high-end labels, reported that Gucci's comparable sales were up 4.6% for the second quarter in its earnings report yesterday (July 27).
The growth ends a steady slide that's lasted for more than a year, and it comes as a bit of a surprise, given that analysts were predicting a 2.5% to 3% decline for the brand. But it isn't quite a reliable signal of sales to come just yet.
Instead, it's more the close of one chapter for Gucci—the one marked by Frida Giannini's reign as creative director, which—and the start of the new regime under Alessandro Michele, Giannini's successor.
In the past few months, Gucci's China stores have been heavily marking down merchandise held over from Giannini's tenure, creating lines of shoppers eager to get cheap deals. The move was loaded with symbolism. It suggested not only that the brand was anxious to get some sales, but also that it was jettisoning the remaining traces of Giannini's work.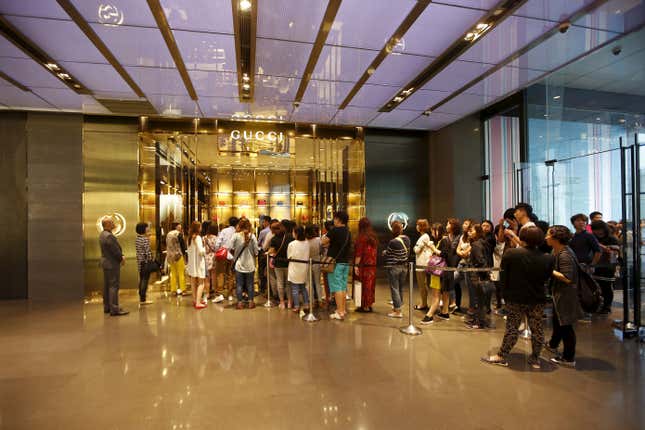 Jean-François Palus, Kering's group managing director, hinted at Gucci's desire for a fresh start on its earnings call. "The team are not leaving any Gucci elements entrenched," he said, adding that they were "applying new codes" across the brand offering.
The clearance sales in China, combined with strong sales to tourists in Japan and Europe, were behind Gucci's surprise sales jump. The weak euro likely inflated sales as well, since it makes it easier for tourists in Europe to buy and also because sales in other currencies look larger when Kering translates the numbers back to euros for its books. Michele's products, meanwhile, are only just hitting store shelves, so it's too early to tell if shoppers will fall in love with his flowery, languid, grandma-chic take on luxury.
But Kering is certainly optimistic. The new creative and executive teams "have the skills needed to restart [Gucci's] growth engine," Palus said. Both Palus and Jean-Marc Duplaix, Kering's CFO, noted on the call that Michele's work has been met with high praise by both the fashion industry and the press, and celebrities have certainly taken a liking to it.
Now, regular shoppers need to find it alluring, too—particularly the bags and shoes, which together accounted for more than 70% (pdf, p. 43) of Gucci's sales in 2014.
And that should be right up Michele's alley: before becoming creative director, he was the label's head accessories designer.