Gucci must be anxious to start the next phase in its history, when it can finally say goodbye to the work of its former creative director, Frida Giannini, and welcome the new regime of Alessandro Michele and his nerdy, flowery, romantic vision for the brand.
To clear its current inventory—the last batch designed by Giannini—before Michele's goods hit stores for the fall season, the Italian luxury fashion label is discounting its products as much as 50% in China, Bloomberg reports. That may not sound like a huge reduction to shoppers in the US used to perpetual sales, but in Chinese cities such as Shanghai, where tariffs and import taxes can make products significantly more expensive than they would be in other countries, it's enough to prompt long lines of shoppers.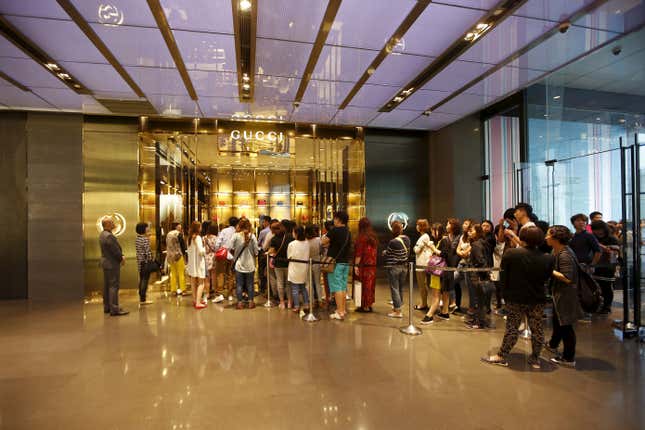 It's been tough going for Gucci in China, where the company has been hampered by the country's economic slowdown, and by an ongoing anti-corruption campaign that's limited lavish purchases by previously big-spending Chinese officials. The Asia-Pacific region, not including Japan, accounts for 38% of its revenue (pdf), so problems there show up in its overall performance.
And Gucci's overall performance has been disappointing of late, for reasons that go beyond those issues and extend to a creative vision that, for many consumers, seems to have been simply off the mark—which is why the company ousted Giannini and its CEO, Patrizio di Marco, in December.
The next step is to get people to line up for Michele's new Gucci.