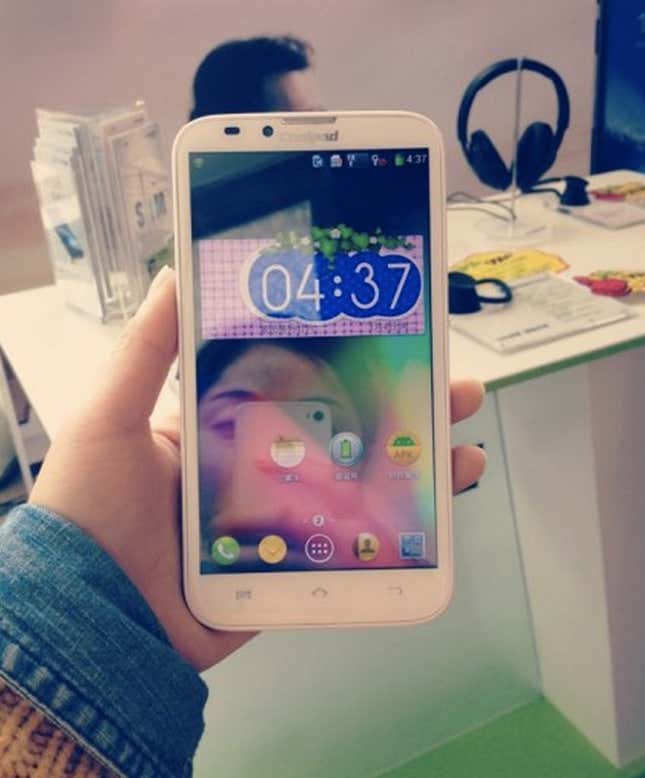 It's a cautionary tale for foreign retailers hoping to cash in on China's burgeoning middle class: Apple is being outsold in the world's biggest smartphone market by a local company less than 1% its size.
That local company is Coolpad (or Kupai in Chinese, which translates roughly as "cool clique"), a subsidiary of Shenzhen-based China Wireless Technologies. It's also one of several Chinese vendors that are beating Apple by offering smartphones for 1,000 yuan ($160) or less. In 2012, Apple slipped from the fourth to sixth place among top smartphone vendors in China, and Coolpad skipped three places to third, according to market research firm IDC. (Samsung and Lenovo are the market leaders.)
Where Coolpad seems to succeed is making phones that are good enough for China's newly affluent who are still not all that wealthy. Average disposable income in 2012 was 24, 565 yuan a year (about $4,000) for urban Chinese residents, the bulk of smartphone buyers. The Coolpad starts at 658 yuan while Apple's iPhones start at 3,088 yuan.
As for its features, the Coolpad runs on Google's Android operating system and uses a five-inch-touchscreen display. One blogger, discussing the merits of the phone on Sina Weibo, China's Twitter-like microblog, says, "A 1,000-yuan smart phone is good enough. Play a few games, watch movies, whatever." Another blogger, commenting on the crowded marketplace of smartphone vendors in China, writes, "Natural selection of smartphones in this market is happens too quickly. Better to buy a phone that's affordable and fine to use." One blogger complained that the phone's processing was slow but that it was good enough as "a backup."
But it's not all doom for Apple in China where sales doubled in 2010 and 2011. Perhaps more importantly, Apple has cachet in China's "aspirational" consumer culture where the newly affluent want specific brands to signal their rising status. Apple was the second most-preferred luxury brand among Chinese male millionaires in 2012, after Luis Vuitton and ahead of Hermès, according to the Hurun Research Institute. Among female millionaires, Apple was the fifth most-popular brand. Apple has allure among regular Chinese, too. In one extreme case, a teenage boy sold a kidney for the cash to buy an iPhone and an iPad.
Apple, which reports quarterly earnings later today, at least has plans to reach China's larger middle class. Earlier in January, Apple's CEO Tim Cook's pledged that China, whose smartphone base could reach 500 million by the end of this year, would become the company's largest market. Apple is introducing an installment system and is reportedly making a cheaper iPhone to cost between $99 and $149.