Amid one of the fiercest lobbying wars on any foreign issue in memory, analysts and bettors say the odds are strong that the Iran nuclear deal will survive its vote in Congress.
Cliff Kupchan, chairman of the political risk firm Eurasia Group, tells Quartz there's no chance that Congress will endorse the July 14 agreement to lift sanctions on Iran in exchange for stringent limits on its nuclear work.
But Obama has vowed to veto any congressional rejection of the deal, and Kupchan puts only a 20% chance on Congress mustering the necessary two-thirds majority in both houses to override the president.
"In my view, 10% chance of an override in the Senate, 20% in the House–so 20% overall," Kupchan told Quartz in an email exchange.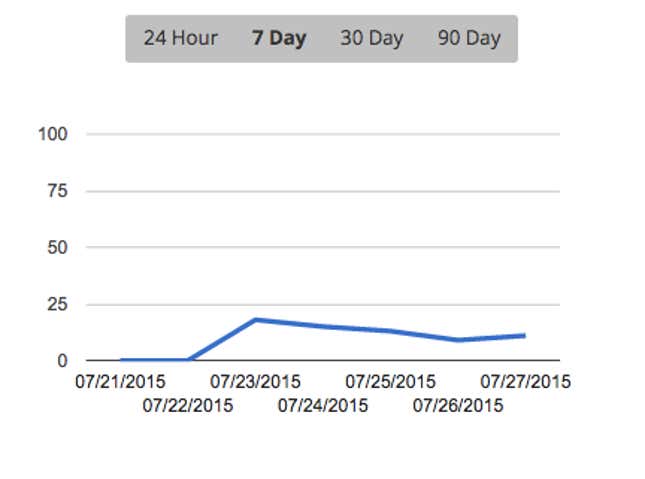 PredictIt, the online wiki betting site, puts even longer odds on the chances of Congress killing the deal—just 12%, as you see in this chart.
Such odds are no secret to deal critics, and one line of thought is that rather than placing much hope on undoing it, they are trying to create a negative stigma around it that will create political opportunity later. For instance, if Iran cheats on its promises, any politician who supported the deal in Congress could be attacked for doing so. There could also be extraordinarily strong public support for reinstating or strengthening punishing sanctions against Iran.
A new CNN/ORC Poll shows that the critics may be having the impact they seek, as 52% of Americans surveyed want Congress to reject the agreement, and just 44% support it.
Israeli prime minister Benjamin Netanyahu (pictured above with Obama) is one of the deal's harshest critics. On July 28, a US parole panel reportedly agreed to release convicted spy Jonathan Pollard, who gave intelligence to Israel, in November in what could be an attempt to lighten the tension with Netanyahu once the nuclear deal goes ahead. But US officials say the release is unrelated to the Iran deal.