Twitter's change in top management—ex-CEO Dick Costolo stepped down in June—was meant in part to give the shares a lift. But the installment of Twitter-cofounder Jack Dorsey as interim CEO has been less than salubrious for the stock, which is down roughly 12% from where it was when Costolo left the corner office.
After Twitter revealed its second-quarter numbers following the close of the regular trading session yesterday (July 28), there was an immediate spike in the company's share price. News of the slightly-better-than-expected results sent the stock up more than 10% in after-hours trading.
Then the conference call began.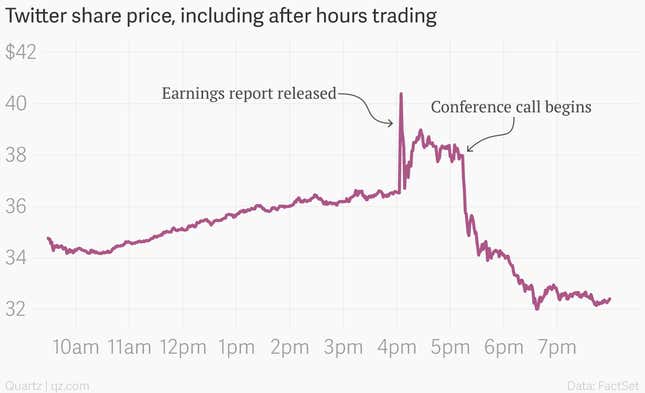 What was said? For starters, there was Dorsey's reminder that the road ahead for Twitter is both steep and long. "We'll take the necessary time to build the service people love to use every single day, and we realize it will take some time to show results we all want to see," Dorsey said in his opening comments to investors. The share price trended steadily lower as the call continued. At its worst moments, it was down roughly 13% from the day's closing price.
Not all of the comments that spooked investors came directly from Dorsey. Speaking about the closely watched metric of monthly active users (MAUs), CFO Anthony Noto had this to say on the call: "We do not expect to see sustained, meaningful growth in MAUs until we start to reach the mass market. We expect that will take a considerable period of time."
Dorsey's defenders say the company is finally being honest about its product and perception problems. Indeed, it has offered a vague but plausible plan to make Twitter easier to use and relevant to more people. The plan includes product improvements and efforts to better target markets with the highest growth potential.
That's fine for patient investors with a long time horizon. For short-term investors, the reminder of what Twitter's facing was reason enough to run for the exit.