This article has been corrected. 
The real Michael Jordan has been defeated by his Chinese imitator again, after years of lawsuits. The 52-year-old basketball legend lost a trademark suit against Qiaodan Sports, a Chinese sportswear company based in southern Fujian province, after the Beijing Municipal High People's Court made a judgement.
Jordan first sued the company back in 2012, alleging Qiaodan Sports had taken his Chinese name, his team number 23, and was using a jumping man logo to sell basketball shoes and jerseys, misleading consumers in China into thinking he was behind the brand.
Qiaodan (乔丹), pronounced "chee-ow dahn," is a Mandarin transliteration of "Jordan" that has been used to refer to the former Chicago Bulls player in China since 1980s, as Jordan's legal team noted in an online statement at the time.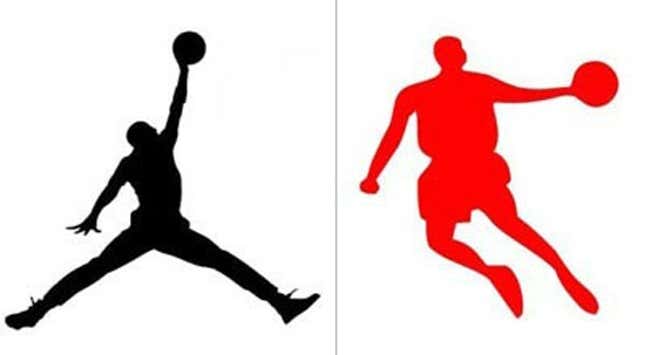 While Jordan, whose personal brand Air Jordan is a division of Nike, demanded the imitator deregister the name in China. Qiaodan Sports instead struck back, by giving a far-fetched explanation for their brand name, then counter-suing Jordan for preventing the company from pursuing an IPO in 2013, as Quartz has reported earlier.
After a court decision ruled against him, Jordan took the trademark dispute to the Beijing Municipal High People's Court in April for a retrial. Once again, the court ruled in favor of Qiaodan, instead of Jordan, according to a verdict (link in Chinese) dated June 18 and published in Chinese media:
"Qiaodan" is not the only name that corresponds to "Jordan," and "Jordan" is only an ordinary surname of American people, not a full name. So the current evidence is not enough to prove that "Qiaodan" determinedly points to Michael Jordan.

The image of the disputed trademark is a human body in a shadowy design, which does not clearly reflect the major appearances of the figure. It is hard for the relevant public to recognize the image as Michael Jordan.
The court's judgement refers to 32 of the 78 trademarks that Jordan asked Qiaodan Sports to deregister, according to a statement from Jordan's legal counsel. Jordan plans to appeal to the Supreme People's Court for a retrial, the statement said, and a separate "naming rights" case against Qiaodan is still pending in Shanghai.
"Michael Jordan respects the Chinese legal system and is confident that his legitimate rights and the interests of consumers not to be misled will be protected under law," the statement said.
A spokesman at Qiaodan Sports declined to comment on the court ruling when contacted by Quartz on July 29.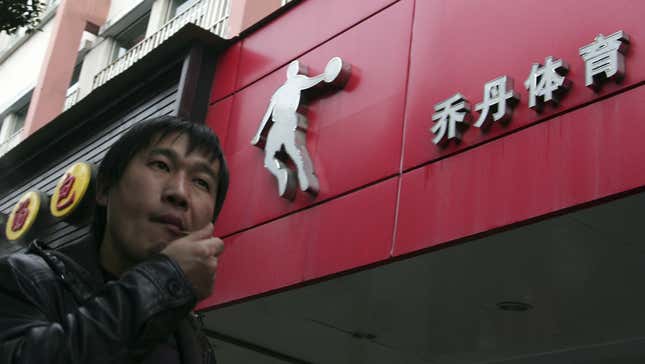 There are plenty of outright fakes of foreign brands made in China, but registered companies have also taken advantage of big names from the West. In 2013, Chinese sportswear maker Adivon, an Adidas lookalike, transferred its Chinese trademarks and triangular logo to global sportswear maker under a settlement that came five years after Adidas sued.
Still, it isn't really accurate to call Qiaodan Sports the real winner. In 2012, the sportswear maker had more than 5,700 outlets, brought in $276 million in revenue, and was preparing to raise $175 million (paywall) in a public listing in the Shanghai Stock Exchange. But the IPO has been hampered by Jordan's suit for three years, and now Qiaodan Sports is now commonly known, both in home and abroad, as a knockoff.
"Even if he lost one case after another, as long as he prevented Qiaodan Sports from rising further, Michael Jordan can consider his opponent the defacto loser," wrote Fang Zhengyu, a sports commentator, in a column at Phoenix News.
An earlier version of this article incorrectly said that the ruling came from China Supreme People's Court, based on information in Chinese state-run newspapers. The ruling was actually from the Beijing Municipal High People's Court, and Jordan is appealing to the Supreme People's Court.