As expected, Korean automaker Hyundai's quarterly earnings were hampered by the relative strength of the Korean won. And Hyundai's experience highlights why the the recent strength of the won—or perhaps better put, the weakness of the Japanese yen against the won—will be problematic for Korea's important export sector, which sends a lot of goods to Japan. But one thing that caught our eye in Hyundai's presentation were plans to tamp down production of cars in its plant in Chennai, India this year. (Highlights ours.)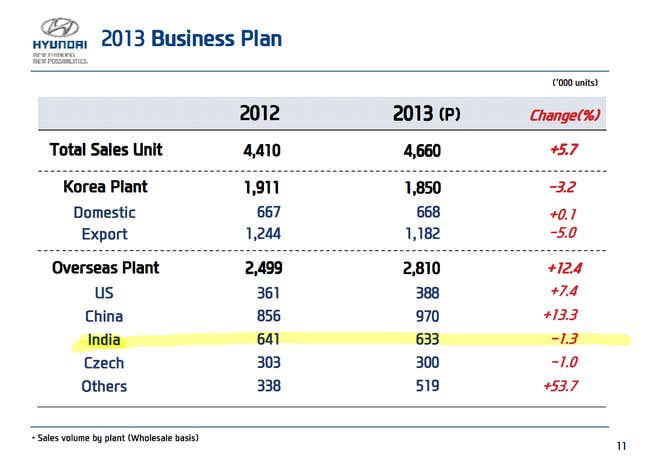 The decision stands to reason after the recent slump in car sales seen by major manufacturers. Bloomberg reports:
Hyundai Motor Co. said on Jan. 1 its Indian sales last month fell 9.6 percent to 29,516 vehicles. Tata Motors, maker of the world's cheapest car, the Nano, reported a 51 percent drop in passenger-vehicle sales for December, while Toyota's India sales declined 24 percent.
After a surge between 2008 and 2009, the Indian car market itself has been a bit of a mess lately. Car makers struggle with high interest rates (which make car loans more expensive for consumers) and fuel prices. They also find themselves somewhat befuddled by a changing government policy on diesel price controls, which makes it hard for them to decide whether to concentrate on building cars that run on gasoline or diesel fuel.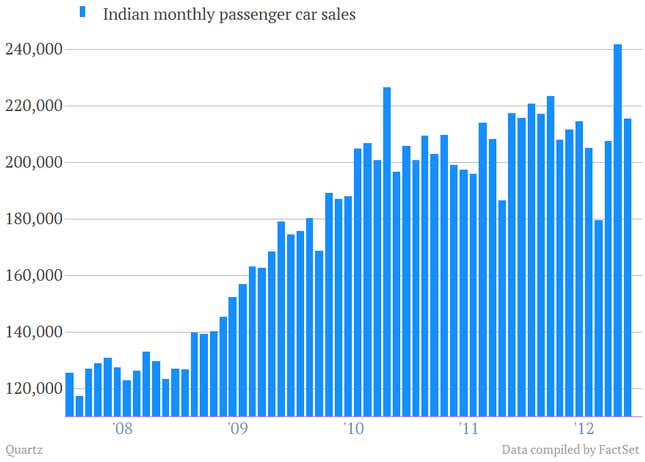 And by the way, Hyundai is not alone in its decision to wait and see how India plays out. The Times of India reports:
The Volkswagen group, Europe's number one carmaker that runs three key brands here (VW, Skoda and Audi), made its intentions clear when it said recently that it will not make any fresh investments in India till 2015, blaming the government for the change in its otherwise-bullish stance. "The policy framework here is not stable. Which company will like to invest?" John Chacko, MD of Volkswagen India, said. The official blamed "uncertainties on fuel prices and diesel policy", apart from the poor economic climate, among reasons prompting the group to go slow in the market.