This post has been corrected.
Forget helping you with your taxes, or diagnosing cancer: IBM's Watson cognitive computing system can now help you beat your friends at fantasy football. A new startup built on Watson's technology, called Edge Up Sports, launched today (August 12) on Kickstarter that might give fantasy players more time to spend gloating about their victories than poring over injury reports.
Gone are the days of wasting hours searching for reports on fantasy football players, and having to weigh one pundit's analysis against another's. Edge Up CEO Ilya Tabakh told Quartz his system—which Edge Up is calling the "cognitive news radar"—will be able to wrangle the firehose of sports articles in order to provide fantasy coaches with insights.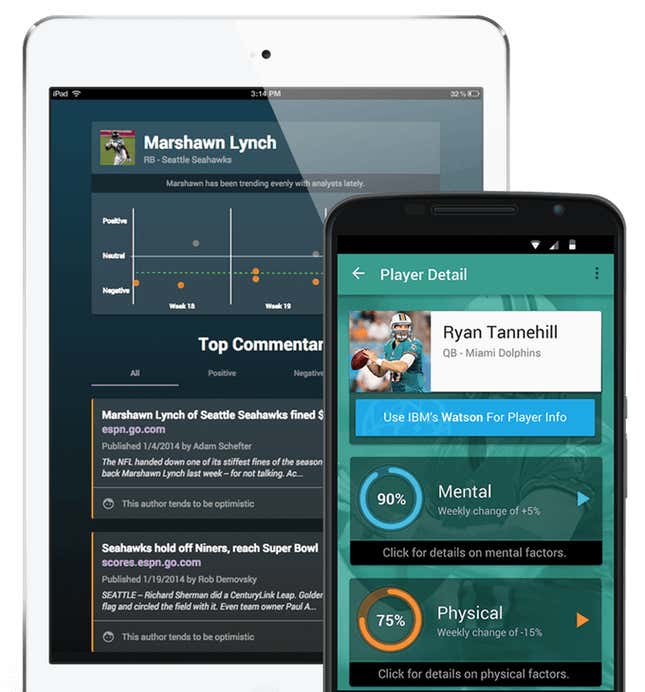 In addition to all the statistics you might expect, the system uses Watson's sentiment analysis and natural language processing tools to figure out what players are being talked about in every article, and whether they're being discussed negatively or positively. Articles could address a player's on-field performances, training regimen, or even off-field antics—anything that might affect how he plays in the next game. The system will even apply the tool to the pundits themselves, trawling through their past articles to see if they are generally optimistic or pessimistic, and factor this into its decision on whether it should impact the fantasy coach's decision to pick the player. Edge Up subscribers will get the information in "near-real-time," Tabakh said, and sentiment trends on players will be updated multiple times a day.
"We're doing a lot of the heavy lifting for you," Tabakh said.
The eventual pricing structure, Tabakh says, will likely be a weekly or monthly subscription, and cost about double the Kickstarter rates. Right now, it will cost $55 for access for one person to Edge Up's cognitive insights, and $550 for access for an entire fantasy football league.
Tabakh said there are over 33 million people in the US who already play fantasy football, and believes his tool will open the hobby up to the millions more who feel daunted by the hours required to set up, research, and maintain a fantasy team. Through the Kickstarter, backers will have access to the beta platform for the 2015 football season, and will be able to give their feedback on how to improve the app before a wider launch in 2016. They'll be able to connect the app with major fantasy football sites, manage their rosters, and gain insight on who should be starting or traded on any given week.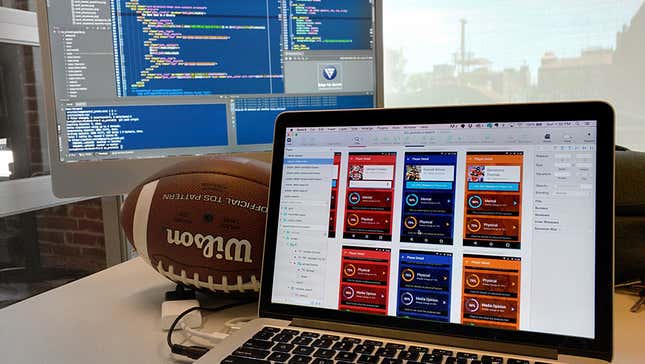 Fantasy football is already believed to be a multibillion-dollar industry, and more tech companies are jumping on the fantasy bandwagon. Yahoo, which has one of the largest fantasy sites, recently launched a new daily fantasy app to add to its fantasy empire. "Fantasy might be the closest thing to a digital pastime that exists in this country," Tabakh said.
While this may seem a world away from winning Jepoardy or high-minded projects like genome mapping for cancer treatment, Edge Up Sport's platform is using Watson for much the same purpose: to find patterns in mountains of data that one person couldn't possibly hope to sift through on their own. The company is using Watson's APIs through the Watson Ecosystem initiative, which lets companies submit app ideas based on Watson to IBM. "[With Watson,] we can start to do things that would've been impossible for a company of our size and at our stage even a year ago," Tabakh said.
Whether Edge Up will open up fantasy football to more players remains to be seen, but it's clear that IBM is trying for a big score with Watson. It formed a business unit in January 2014, with CEO Ginny Rometty pledging to invest $1 billion in cognitive computing. Hopefully for IBM, after 13 straight quarters of falling revenue, that it finds the endzone.
Correction (8:15am): An earlier version of this post said IBM reports Watson results on earnings calls, which in fact, it does not.