Yahoo is betting on fantasy to drive its growth. The company today launched a daily fantasy sports league that will let fans in the US compete for cash prizes each day.
With Yahoo Sports Daily Fantasy, it will host one-day and one-week fantasy games in addition to season-long tournaments, directly competing against DraftKings and FanDuel, both venture-backed startups rumored to have billion-dollar valuations that currently dominate daily fantasy sports.
Though gambling is illegal in the US except Nevada, fantasy sports is legal in 45 states because it's considered a "game of skill." Yahoo's daily fantasy sports app (iOS, mobile web, desktop) will not be available in Iowa, Arizona, Louisiana, Washington, and Montana.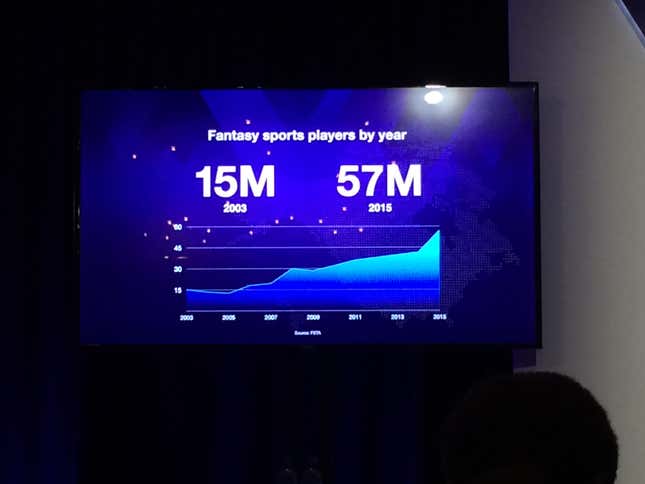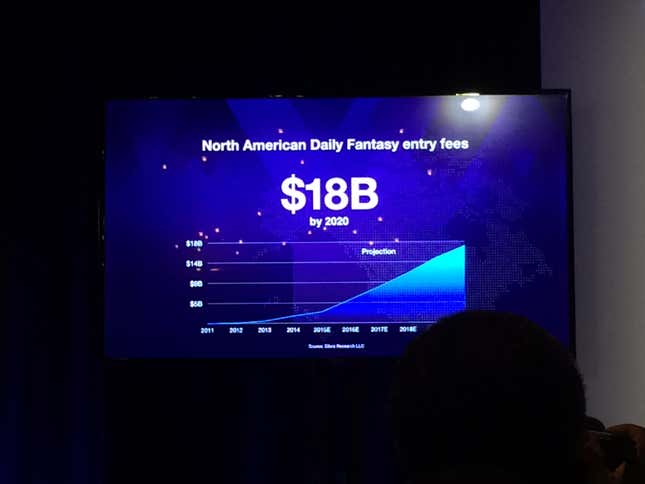 It's easy to see why Yahoo would foray into this arena. The company says it has "tens of millions of players" who spent 30 billion minutes this past year on fantasy sports. "That's 57,000 years, which takes you back to the late Stone Age if you trust Wikipedia," said Ken Fuchs, Yahoo's vice president of publishing products, at a press conference today.
Fantasy sports is big business, with 56.8 million US and Canadian players in 2015, a 40% increase from last year. Meanwhile, entry fees for daily fantasy games alone are expected to bring in $18 billion by 2020. With Yahoo taking a 10% cut of entry fees, the company—whose stock has been down 26% year to date—could see a nice revenue boost.