A picture is worth a thousand words. A Chinese man who was wrongly convicted of murder—and has since been proven innocent—might understand this idea more thoroughly than others. He turned to drawings to show how local police extorted "confessions" from him by torture.
Liu Renwang, a 53-year-old villager from the Shanxi province in northern China, was accused of fatally shooting a local official in 2008. He was sentenced to death by a local court in Shanxi in 2010, but the sentence was suspended. In 2012, he was given life in jail instead. In 2013, the court overturned the guilty verdict; the killing remains unsolved.
Now Liu is seeking 6 million yuan, or nearly $1 million, in compensation from the Lüliang Intermediate Court that convicted him. The court itself accepted the case in June, as reported by The Paper (link in Chinese), a state-run digital publication based in Shanghai. The Chinese government is trying to reduce court errors such as the one that caused Liu such grief.
Liu hopes the drawings will help him to win compensation from local authorities and "let more people know how the police use torture in interrogations."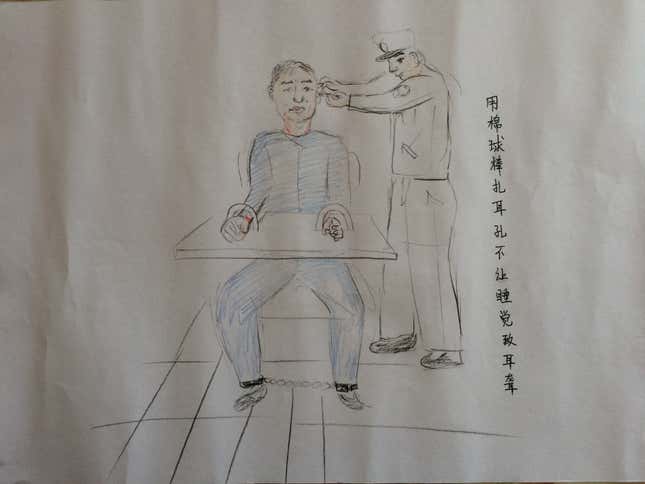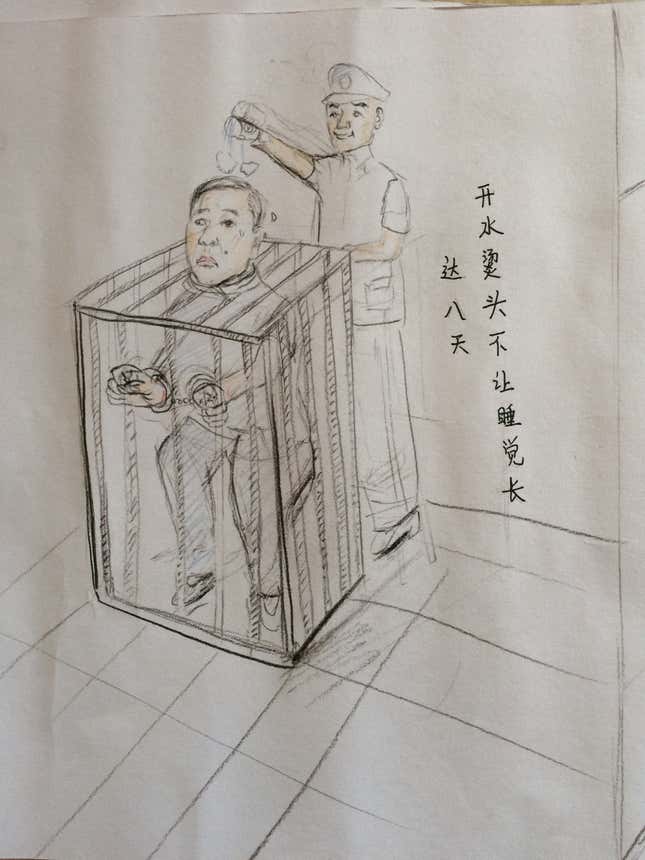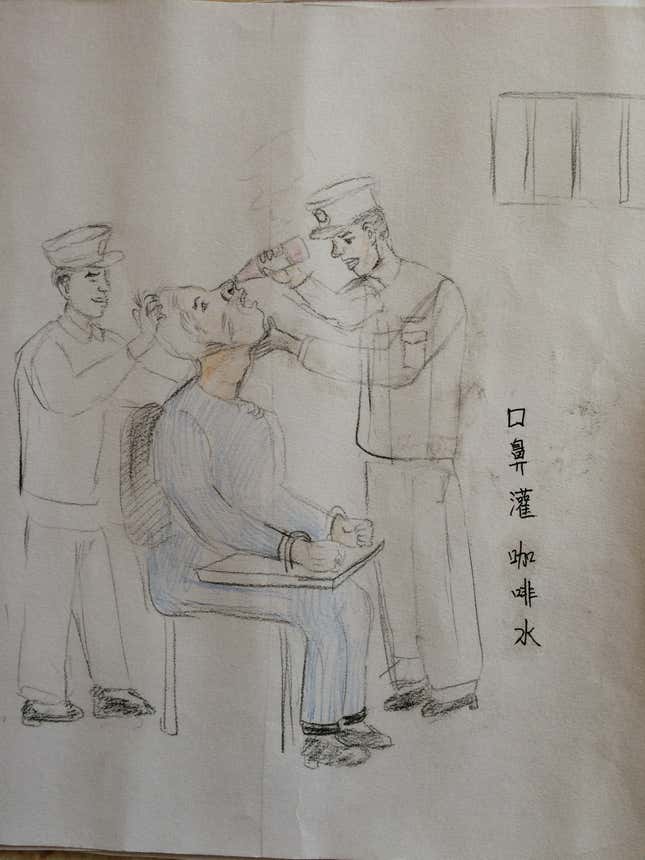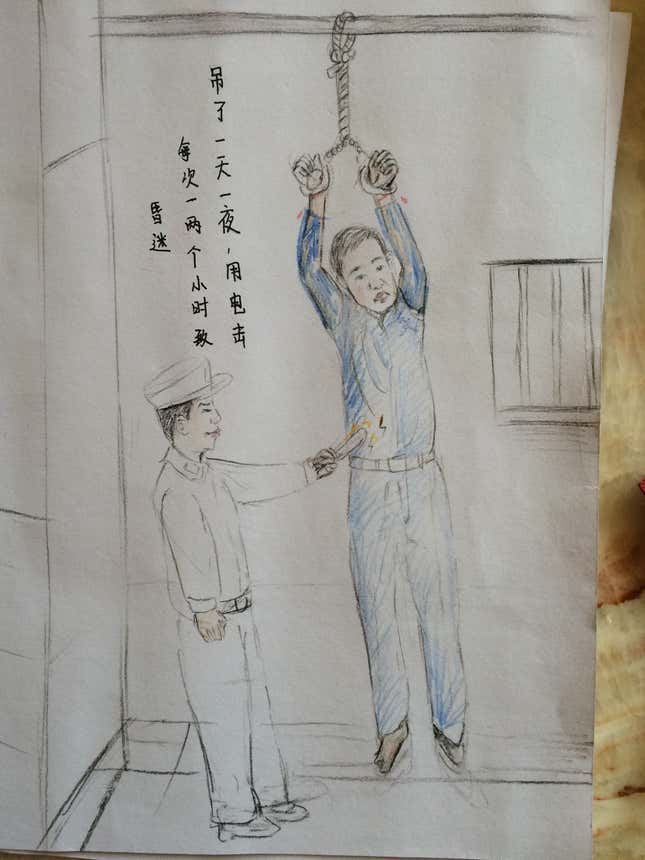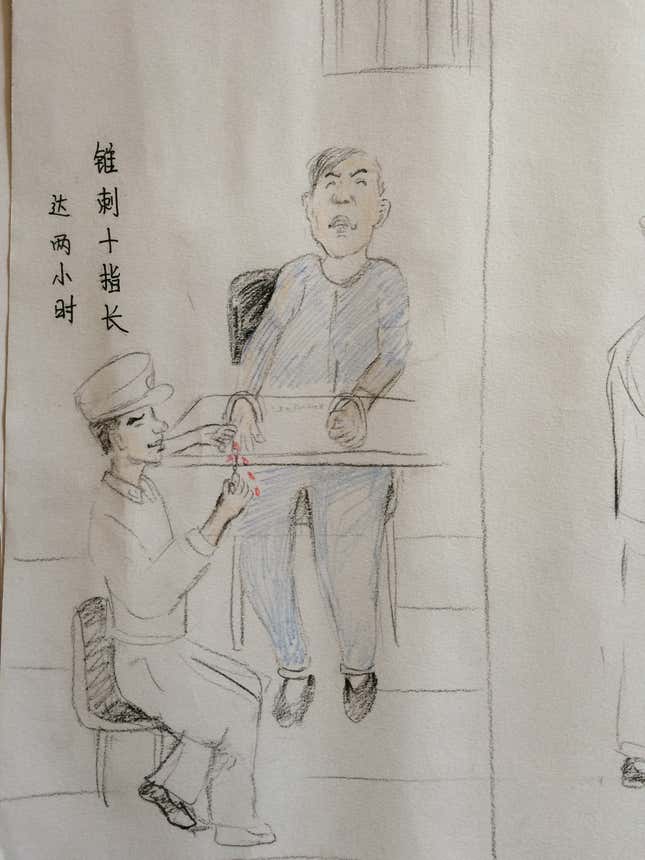 Liu told the New York Times he paid a painter who "expressed sympathy regarding my experience" 100 yuan ($16) to draw the six images for him.
"After their interrogations, my hair turned gray, my hearing was damaged, and my lower back could not move properly," Liu told the New York Times. "My health has collapsed. I can do nothing now."
Whether his depiction of the abuse is completely accurate remains unknown. But a medical examination of Liu recorded in January 2009 indicated injuries on his jaw, forehead, nose, wrists, shoulders, and the back of his neck, according to The Paper.
The Paper also reported that Liu made 15 statements through the interrogations; of those, he declared innocence seven times and "admitted" guilt eight. He said he even had to make up an imaginary accomplice after the police told him two committed the murder.
Liu's is not an isolated case. Other instances of wrongful convictions—driven by police pressure to solve capital crimes—have come to light. For example last December a court apologized and overturned a guilty verdict of a teenager, 18 years after executing him for murder. More recently, a man convicted of murder in 1996 was acquitted on Tuesday (Aug. 11) after appealing for 20 years (link in Chinese).
Commenting under a news post of Liu's case, one reader wrote on Sina Weibo, a social media platform (link in Chinese): "A film should be made on this. It can absolutely win a prize, maybe the Oscars."
"It's a slap on the face of the rule of law," another wrote.