Hundreds of people were injured and at least 44 were killed after a series of massive explosions took place in the northeast Chinese port city of Tianjin late on Wednesday (Aug. 12). About 75 miles southeast of Beijing, the city is a major hub for oil refining and petrochemicals.
The dramatic blasts occurred at a shipping terminal in the city's Binhai district, after explosive materials ignited in a container, the state-run People's Daily reported. The first blast took place at around 11:30pm local time, followed by a bigger one about 30 seconds later. Several more explosions occurred during rescue efforts.
The blasts registered on earthquake-monitoring equipment. The first explosion had a magnitude of 2.3, equivalent to three tons of TNT, according to the China Earthquake Networks Center (link in Chinese). The second registered at 2.9, equivalent to 21 tons of the explosive.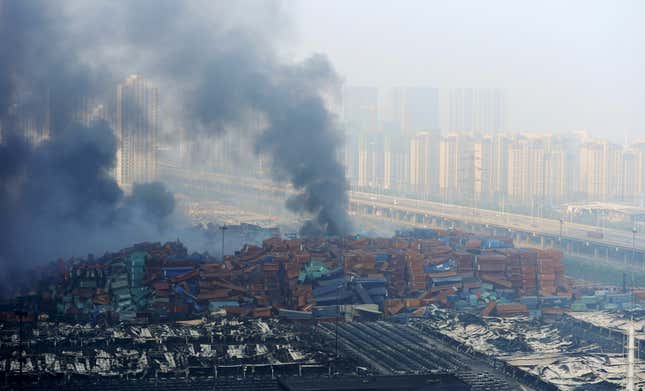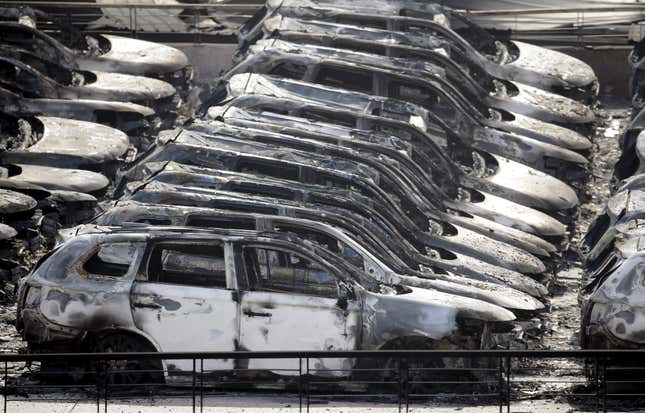 At least 44 died in the blasts, including a dozen firefighters, with more than 520 injured. The State Council has ordered the suspension of firefighting efforts due to a lack of clarity about the "dangerous goods" in the warehouse involved. A team of chemical specialists (link in Chinese) will be deployed instead.
The area burned by the blasts measures about 20,000 square meters, according to national broadcaster CCTV (link in Chinese). The government has not commented on what caused the blast. Reporters have been moved about 10 kilometers (6.2 miles) from the blast zone, as surrounding buildings are collapsing. Reporters said the air smells acrid at the scene, and firefighters noted that water on the ground is colorful (link in Chinese).
The explosions took place in a warehouse of Ruihai International Logistics at Dongjiang port, which accounted for 70% (link in Chinese) of the "hazardous goods" shipments in Tianjin last year. A company website, no longer working, said the firm was established in 2011 and is licensed to transport hazardous goods. It has 70 employees, posts annual revenue of over 30 million yuan ($4.7 million), and can handle about 1 million tons of cargo a year.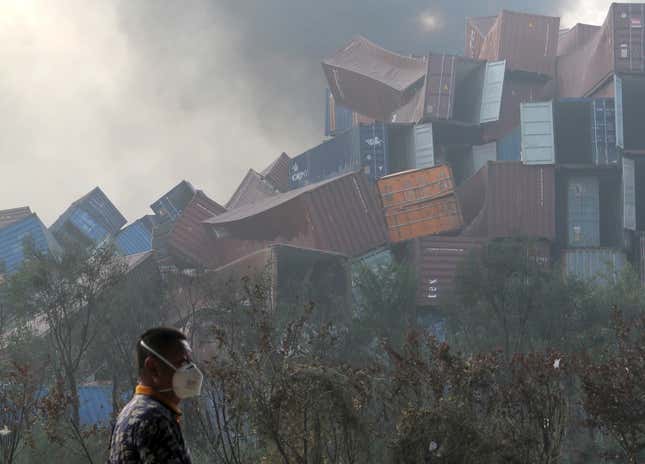 State-run digital publication The Paper made a list (link in Chinese) of the categories of "dangerous goods" stored at Ruihai International Logistics, based on the company's website:
Argon and compressed natural gas
Flammable liquids such as butanone
Flammable solids and self-combustible goods
Oxidizing agents
Toxic goods, including sodium cyanide
Corrosives, including formic acid
In March 2014, the Tianjin government held an emergency drill (link in Chinese) on highly toxic and hazardous chemicals at Ruihai International Logistics. A government inspection between November and December 2013 reported that five of the more than 4,300 containers on site were improperly encased (link in Chinese).
A company representative has been detained by the police, the People's Daily reported.