China has long known it has a problem with air pollution, but a recent study has attributed a startling new death toll to the issue. Berkeley Earth, a nonprofit that studies climate change and related issues, says 1.6 million deaths in China are caused by air pollution every year. That's well over 4,000 per day, or 17% of all deaths.
In its paper, to be published by the peer-reviewed journal Plos One this month, the organization also examines the sources of air pollution in China. While the bad air in Beijing may get the most press coverage globally, the capital doesn't have the worst air in China, and it isn't the biggest source of air pollutants (although the 10 worst cities in China are all found relatively close to Beijing).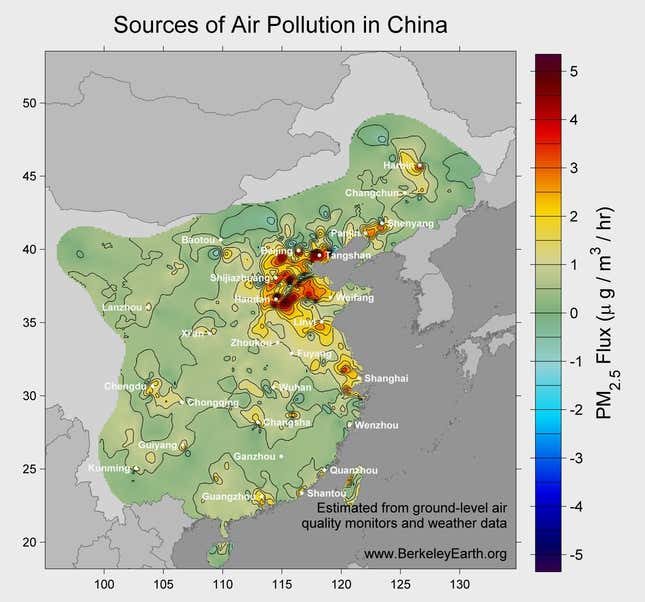 The biggest single source of this air pollution is coal, which is still used as a major source of fuel, particularly in the northeast of the country, where air pollution is generally worst. But the government is trying to wean itself off this fuel source, and has taken some impressive steps toward doing so.
Last year China's GDP grew by 7.4%, but the amount of coal it burned for electricity actually fell by 1.6%. In the first four months of this year, China's coal use was 8% lower than the same period a year earlier. Some of that drop can be attributed to an economic slowdown in China, but economic activity is still rising overall. That suggests a fall in coal use represents a real reduction in the country's dependency on the fuel.
The use of oil and natural gas is rising to replace coal to some extent, which is less than ideal. But even faster is the rise in renewable energy in China, which now has more installed wind power capacity than the US, and almost as much as the EU. The nation is also a big proponent of solar power.
That the government is on a mission to clean up China's air pollution is a good thing, but unfortunately that process will progress only as fast as authorities feel comfortable with. Earlier this year, a well-known Chinese journalist self-financed a documentary about China's air pollution problem and the political roadblocks to fixing them. The government initially praised Chai Jing's research, and the film was viewed over 100 million times online.
But soon after that the government changed its mind and censored the film, along with any talk of it. For those interested in China's air pollution and how it is portrayed in China, the film is still available here with English subtitles.