Updated Aug. 20 at 4pm in Hong Kong
Are there links between China's minority Uighur population and the Bangkok bomb that killed 22 people on Aug. 17? That is one of the theories officials in Thailand are investigating.
Thai investigators are "focusing on a revenge motive by Uighur militants," who may have been retaliating for last month's forced repatriation of Uighur refugees who fled China, unnamed police sources told the Bangkok Post. Police are now searching for three suspects who were captured on closed circuit television before the blasts, a police spokesman told reporters, including a foreigner.
Six of the fatalities in the bombing and 22 of the injured were from Greater China, which includes Hong Kong, Taiwan, and the mainland. The Erawan shrine where the bombing took place was particularly popular with Chinese tourists.
The Royal Thai Police distributed a sketch of the main suspect in the bombing—a man seen in a yellow shirt leaving a backpack at the shrine before the blast: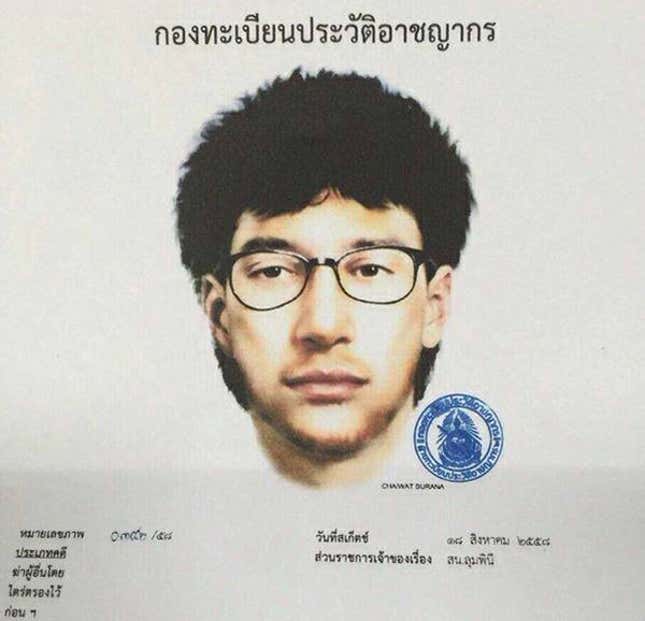 Police spokesman Prawut Thawornsiri told reporters late on August 19 that the suspect was a foreign man, who was overheard speaking a foreign language. Police suspect he may be a Muslim from South or Central Asia,  according to South China Morning Post coverage (paywall) of the press conference:
Prawut also gave a description of the suspected ethnicity of the alleged bomber, using the Thai phrase "khaek khao" - a word often used to describe light-skinned Muslims from South Asia, Central Asia and the Middle East.

"His skin is white and he has a high nose. Whether khaek khao or not I don't know. But from the footage it looked like that," he said.
Some Chinese media reports also reported on suggestions that the attack (link in Chinese) could be revenge for the Uighur repatriation.
On August 20, though, a spokesman for the National Council for Peace and Order, the ruling military junta, said any connection to international terrorism was unlikely, and that the bomb was probably the work of organized crime. Contradictory reports from police and government officials are not uncommon during investigations in Thailand, and numerous terrorism analysts say the motive and culprits are hard to determine from the location and type of bomb.
A link between the Bangkok bombing and China's separatists, if proven, would be a significant, and alarming, development, signaling that China's homegrown problem of Uighur minority unrest was spilling out from the country's borders. Targeting China's far-flung tourists and businesses around the globe would represent a major escalation in the conflict.
China's central government has long been criticized for its heavy-handed, draconian treatment of its largely Muslim Uighur population, which has included banning religious holidays like Ramadan, banning parents from speaking about Islam with their children, and offering incentives and government jobs to Han Chinese population that relocate to the region.
In recent years, China has been home to dozens of incidents of terrorism and ethnic clashes, mostly linked by Chinese media to Uighur separatists, although independent reporting in the area is nearly impossible because of the high level of government surveillance. As Quartz has previously reported, these incidents have spread from the northwest through China in recent years: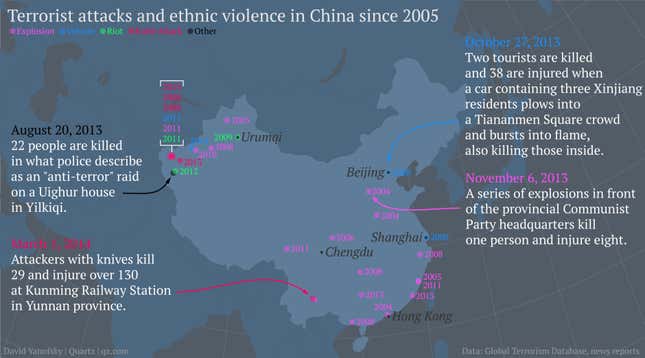 The Uighur group deported from Thailand was originally fleeing to Malaysia or Turkey, but sought asylum in Thailand after being detained, claiming they faced persecution for their religion and harsh treatment in China. They had been in Thailand for more than a year.