Londoners can already go "wild swimming" in a pool with toads and plants. Soon, brave urbanites will be able to swim through the sky, from one tower block to another.
The "Sky Pool" is set to straddle two apartment buildings in the Embassy Gardens development, located in the Nine Elms district of London. The pool will be 25 meters (82 feet) long, 3 meters (10 feet) deep, and completely transparent. And it will be 10 floors up, connecting two apartment buildings.
The development firm overseeing the project, Ballymore Group, brought in aquarium architects to help design the hovering water holster, and nervous swimmers might be reassured by glass that's 20cm (8 inches) thick—about seven times thicker than bulletproof glass you might find at your bank.
"The experience of the pool will be truly unique," the CEO of Ballymore Group, Sean Mulryan, said in a statement to Quartz. "It will feel like floating through the air in central London."
Residents will be able to swim from one building to the next. The sky pool deck will include a spa, summer bar, and greenhouse, where bathers can take in views of the House of Parliament, the London Eye, and the new US Embassy located next door, the namesake for the complex.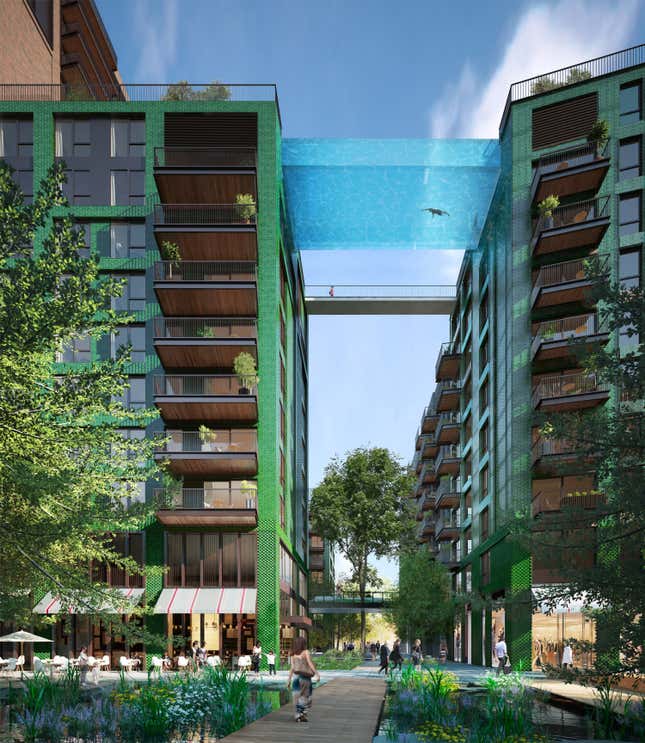 As for the design of the complex at large, Ballymore told Quartz that the Embassy Gardens building takes inspiration from New York City's hip Meatpacking District. The buildings will feature floor-to-ceiling windows and brick facades.
The pool-linked buildings will be released to market in September, and the development will create nearly 2,000 new homes, new landscaped gardens, and riverfront walkways, says Ballymore. Still, most of the development's hype is focused on the sky pool.