India's central bank made a smart move today: it cut interest rates for the first time since April.
The 0.25% cut, which brings the rate to 7.75%, is good news because the Indian central bank has for several years been raising rates in an ongoing battle with inflation.
But the government's fiscal policies have been driving much of that price growth. For instance, it has been guilty of  unnecessarily subsidizing farm gate prices—though a policy of more lasting impact would enable the rural poor to access cheap credit to modernize their farms. These subsidies create huge waste, as farmers overproduce goods such as wheat, which is then left to rot in the fields. The government has also propped up fuel prices to burnish its populist credentials.
The central bank has responded to the resulting inflation mostly by hiking interest rates. Higher rates, in turn, have choked off access to capital for businesses. This has stifled productivity, as the country needs around $1 trillion of infrastructure investment, but its private sector largely cannot afford to fund projects. All told, these conditions have put the brakes on India's once-healthy economic growth. The IMF expects the country to post GDP growth of a skinny-for-India 4.5% in 2012.
"India has very aggressively tightened rates, and growth has almost halved," Sujan Hajra, chief economist at Indian broker Anand Rathi, tells Quartz.
The chart below shows India's steady tightening of interest rates since 2009…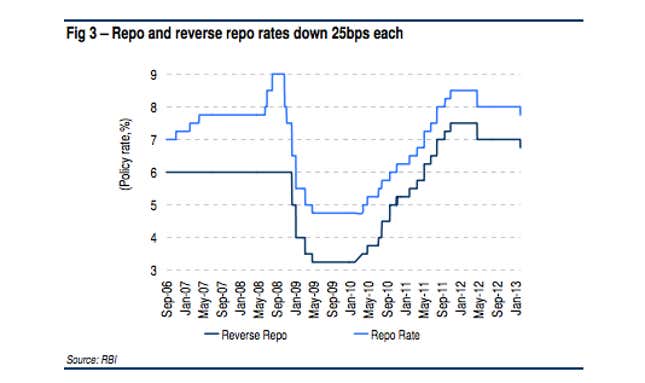 …squeezing liquidity….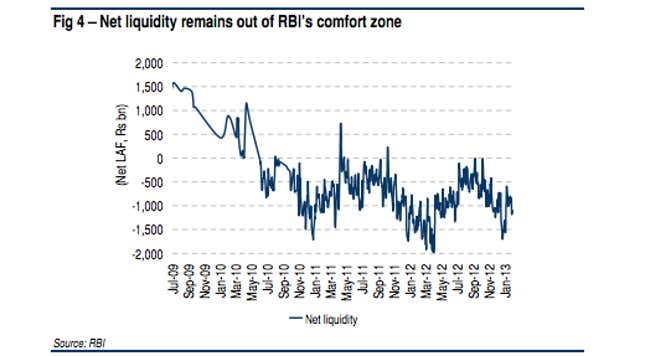 …and, ultimately, causing economic growth to plunge.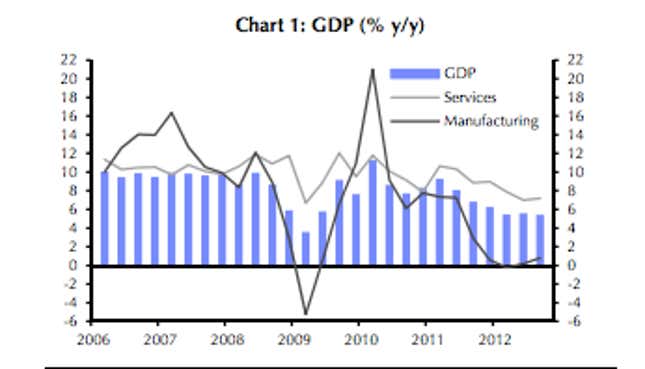 Today's cut may be the first step toward a more aggressive monetary policy reversal, though. Hajra expects the Reserve Bank of India to cut rates a further 0.75% this year, bringing rates down to 7.0%. "The emphasis has shifted from controlling inflation back to growth," he says.
Fiscal policy is in flux as well. The government plans to gradually lift fuel subsidies and is pressuring oil producers to charge less at the pumps to avert a public backlash in advance of a general election next year. The state is also trying to cut its bloated farm subsidy bill with a proposal for states to give cash for pesticides and fertilizers directly to farmers. That may lower costs, as right now the central government buys materials in bulk that farmers do not always need.
The tricky thing with India is that, in order to realize its enormous potential for growth, it needs to get its political ducks in a row. Today's rate cut and the liberalizing reforms on the horizon signal that it may at last be doing so.