In a bizarre dawn raid at a luxury hotel in Shanghai on Saturday (Aug. 22), hundreds of cheated Chinese investors—acting on their own—captured the head of a metals exchange and then delivered him into police custody.
These and some 220,000 other investors may be out over $6 billion thanks to their investments in Fanya Metal Exchange, a domestic trading platform-turned-asset manager that trades and stockpiles minor metals such as indium and bismuth. They put their money into Ri Jin Bao, a derivative product from Fanya linked to minor metals.
According to guarantees made by Fanya, Ri Jin Bao offers 13.7% annualized returns, and funds can be withdrawn at any time. But since April, Fanya has frozen the funds, raising suspicions the exchange was actually borrowing money to create money from nothing, as Quartz has reported.
Investors from around the nation joined the capture, having planned it using messaging apps and social media. They surrounded Fanya founder Shan Jiuliang as he attempted to check out of the hotel, manhandled him into a private car, and delivered him to the nearest police station.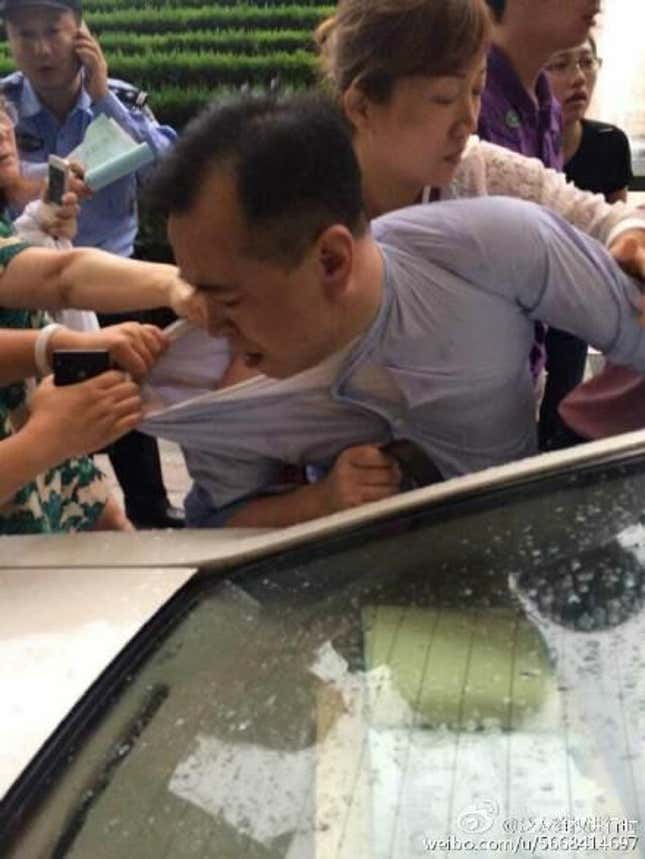 At the station, with the police looking on, two investor representatives made Shan promise that their investments would not be affected by the market prices of minor metals, according to Futures Daily (link in Chinese). On this basis, they agreed to deals enabling the investors to withdraw their funds at fixed periods from three to 12 months. Shan agreed to publish a draft on revised trading rules within the next week, and to ask for investors' opinions. In the end, Shan was released without charge.
The Shanghai police did not open an investigation, but they said they would go to the Yunnan province, where Fanya is based, to inquire about possible fraud. That might not lead to much: Investors in Kunming, the province's capital, told Futures Daily that local authorities and lawyers have been pressured to not look into or represent the investors' cases.
The mob arrest follows a string of protests by desperate Fanya investors who are relying on the government to step in. In July, for example, hundreds of investors gathered at the entrance of a government building in Kunming demanding that authorities "stop the crisis and rescue the people."
Fanya's partners include both big state-owned entities and local firms controlled by the Yunnan government. That makes it an important part of China's larger economic opening up, as Quartz has noted.
Fanya posted a statement (link in Chinese) on its website on Aug. 22 to denounce the raid. "Violent acts against president Shan and our employees, or the disturbance of our work, are destructive to our efforts to solve the crisis. This will only allow forces behind the scenes to profit, and will greatly harm the interests of all members," it said.
Earlier this month Fanya announced a reconstructing its equity in the stock exchange, after it signed a deal on July 10 (link in Chinese) with an unspecified buyer. Previous media reports and an article posted by Fanya itself suggested the buyer was Amer International Group, a maker of cable and copper products. But in earlier calls made by Quartz to Amer, a spokeswoman said it was not the buyer mentioned in Fanya's announcement, although it had discussed the possibility of a deal.
Calls made by Quartz to Fanya were not returned.
Image by James St. John on Flickr, licensed under CC-BY-2.0.