Irate Chinese investors who may be out over $6 billion have been protesting for a week in Yunnan province, trying to recoup cash lost in Fanya Metals Exchange, a once high-flying startup partnered with some of China's biggest state-owned entities.
Fanya, which is facing liquidity problems it blames on "malicious foreign devils" (link in Chinese), has pledged to repay some of that cash and offered up (link in Chinese) other investments in exchange, but retail investors are heading to the government for help. On Monday (July 20) hundreds of Fanya investors, wearing t-shirts that read "We believe the government can stop the crisis and rescue people," gathered in front of the Kunming government building in Yunnan, as Metal Bulletin reported (paywall).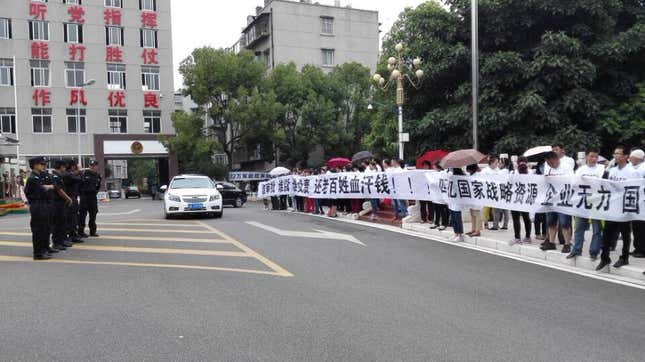 Carrying a banner that read "Those that supervise [are] those that are responsible for the event," they marched to the government building's gate, but were turned back by police, Metal Bulletin said: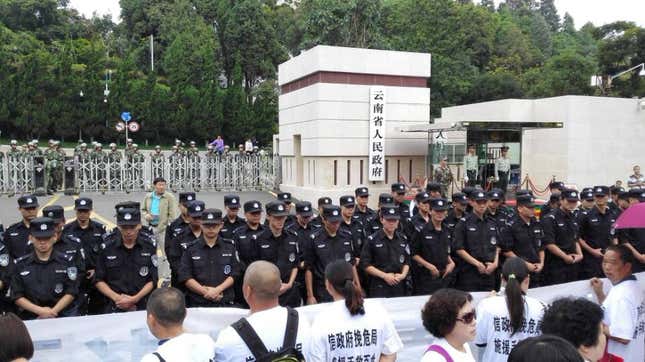 Fanya's troubles have put the Yunnan government in the spotlight. Its partners include some of China's biggest, most well-known government-controlled entities, like the country's largest banks. More important to the protesting investors, they also include several local warehousing and trading companies controlled by the Yunnan government: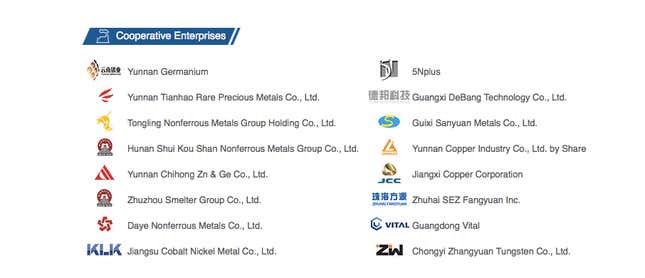 Fanya's investors are relying on the government to step in. "Those who stay in Fanya basically have lost their confidence and hope," one blogger wrote on Fanya's official Baidu page (link in Chinese). "The only thing we can do is to imagine Fanya would get government support so that we can withdraw our money soon."
Early signs indicate the government could step in, much as it did to support the Shanghai and Shenzhen stock exchanges earlier this month.
"Though Fanya is facing some difficulties at the moment, it has the ability to solve them," Liu Guangxi, an official identified only as being "from the relevant department" in the Yunnan government, told the National Business Daily (link in Chinese) in a July 20 article. He added:

The phase will pass soon. As a rare metal trading platform, Fanya has a strong influence in the region and in the world. In the past four years, Fanya is doing what the country should do, that is to establish a rare metal trading platform. It has a significant strategic meaning.

The phrase "strategic meaning" indicates the official thinks the exchange should be considered an important part of China's larger economic opening up, and therefore deserves to be bailed out.
Fanya subsidiary Chongqing Fanya Investment posted an article (link in Chinese) on its Weibo account on July 20, saying Fanya will restructure its equity with the support of the Yunnan provincial government, citing an unnamed government source. Amer International Group, a Shenzhen-based private multinational company mainly dealing with non-ferrous metals, will spend over 30 billion yuan ($4.8 billion) to take over 51% of Fanya, the report said.
Wan Wenying, president of Amer International, has discussed a deal with Fanya, an Amer spokeswoman told Quartz on July 20, but she said there is no guarantee it will happen. Calls to Fanya were not returned.