China's stock markets continued a seemingly uncontrolled drop on Monday (Aug. 24), pulling everything from Asia stock exchanges to commodities down further with them. Things were so bad that even China's normally boosterish state-run media dubbed the day "Black Monday." Despite a huge amount of government stimulus, it seems investors have lost faith in China's stocks and are now focused on an impossible to answer question: how bad will China's economic slowdown be?
The Shanghai Stock Exchange had fallen 8.8% by early afternoon on Monday, breaking through the 3,500 level at which the government has been supporting the market. The market closed at 3,210.8—a drop of 8.5%.
Japan's Topix Index was down over 5% by early Monday afternoon, a "correction" of 10% from the index's Aug. 12 high. At close, it hit 1,480.87, marking a drop of 5.9% since opening.
Hong Kong's Hang Seng Index officially entered "bear market" territory on August 20 and has continued to fall. It was down 4.6% midday in Hong Kong, and closed down 5.05%:
Taiwan's stock exchange, like Hong Kong's, entered bear market territory August 20, and slid another 4.8% by the market's close:
In fact, across Asia, investors were selling stocks. The Jakarta Stock Exchange Composite Index was closed at a drop of 4.04%, and Mumbai's Sensex Index was down 4.55% in afternoon trading . US stock markets followed Asia's down late last week, and today's opening in New York is expected to be brutal.
Concerns about China's economic future and falling demand is also causing commodity prices to collapse. The price of Brent crude fell below the $45 mark on Monday for the first time since March of 2009:
The price of copper trading on the London Metals Exchange fell to a six-year low last week, dropping 2% overall, and is expected to fall lower when markets open in London: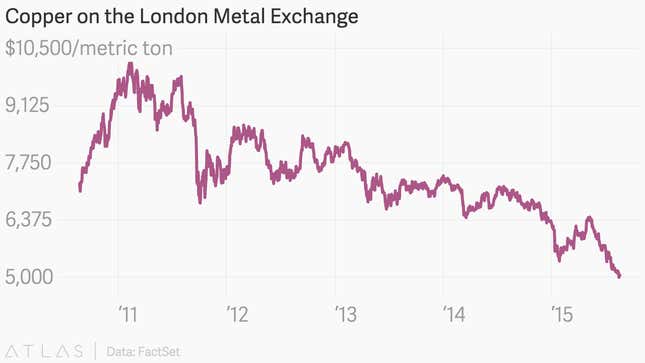 The situation, particularly as the US Federal Reserve is expected to begin a monetary tightening phase, is evoking comparisons to the 1997 Asian financial crisis, the 2008 crisis sparked by the US subprime lending, and even the 1987 market crash. There's also a growing sense that these market drops are going to be impossible to control.
Yes, as Bloomberg points out, Asian economies are in a healthier spot now than they were in 1997, but interest rates in many countries around the world are already near historic lows, so there's little wiggle room for the world's central banks to intervene to try to boost local economies and turn these downturns around.