Prada is dominating the fashion media lately. The label's fall 2015 collection—a candy-colored take on artifice and exaggerated femininity—has been all over fashion magazines, apparently to the point that it's put some editors in a huff.
An important convention of fashion magazines is that you don't want to feature the same dress on your cover as another magazine has. It's like two celebrities showing up to a big event in the same outfit. Editors can ask for exclusive use of a garment, but apparently Prada didn't pay this courtesy much attention when it was lending out clothes, because the same dress—albeit in different colors—turned up on the cover of two major magazines, not to mention a few other places.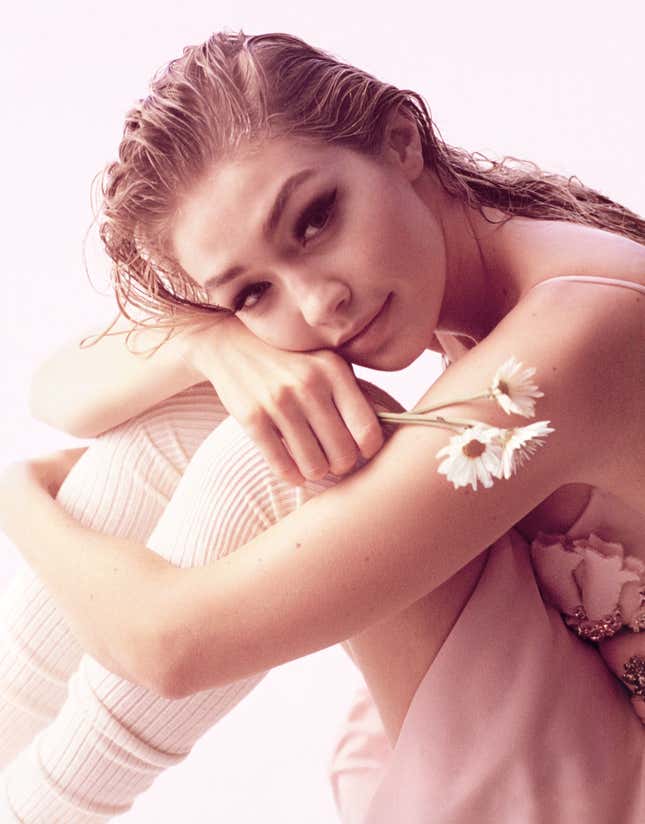 Katy Perry covered Vogue Japan in a pale pink Prada frock embellished with jewels and bows, while model Rosie Huntington-Whitely appeared on the cover of Harper's Bazaar UK in its baby-blue twin (see photos above). Meanwhile, Gigi Hadid, another major model who took the cover of W Magazine this month, appeared inside the magazine wearing the pink version. Page Six of the New York Post reports that she was supposed to appear on the cover in the dress, but once the other covers hit newsstands, the magazine changed course. W Magazine denies this, however.
In any case, it seems like a lot of vexation for a dress some have called ugly, though clearly many people feel otherwise. According to Page Six, fashion editors haven't been happy to learn they didn't have an exclusive on the dress. Any touchiness on part of the editors might be forgiven when you consider that these are their September issues, which kick off the fall fashion season and are generally considered the most important for many fashion magazines. You may remember there was even a documentary about the making of Vogue's September 2007 issue.
While it isn't yet ubiquitous enough to be known as the dress, the Prada design also can be seen this month on Cara Delevingne, who wears it in Vogue proper, while Willow Hand, a model who walked in Prada's fall 2015 show, turns up in the look in Teen Vogue.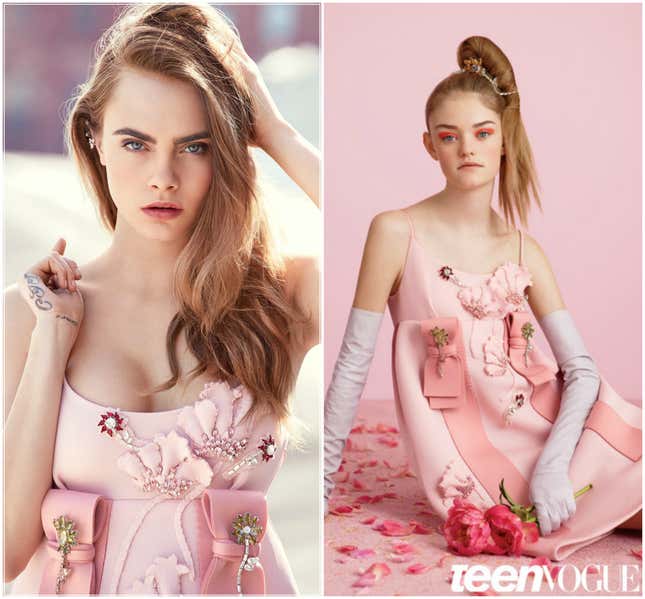 Other dresses from the same collection are all over, too. In July, Marie Claire put singer Rita Ora on its cover wearing one. A month later, the same garment adorned model Lily Donaldson on the cover of Elle UK. As Yahoo! Style reported, the September covers of Glamour Russia, Allure, and even Town & Country all went with Prada fall-winter 2015.
Clearly if there's one label fashion editors love for fall, it's Prada. And Prada has been happy to satisfy their needs.
But the relationship hasn't been mutually exclusive.