Update: 12:01 ET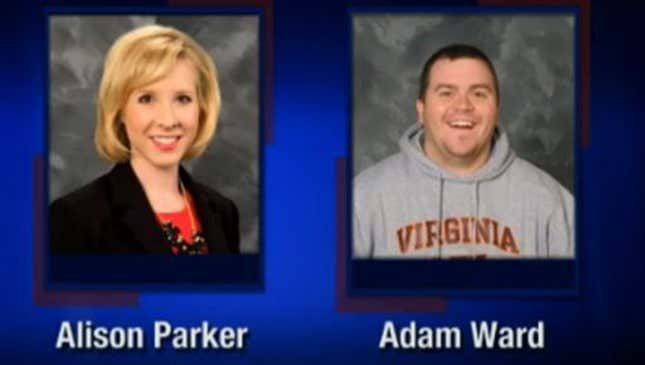 A gunman shot and killed a reporter and a cameraman this morning during a live TV news broadcast in Virginia. Graphic footage of the murder quickly spread across the internet.
Reporter Alison Parker, 24, and and cameraman Adam Ward, 27, worked for WDBJ-TV in Roanoke.
Suspect Vester Flanagan, aka Bryce Williams, a former on-air reporter for WDBJ, later shot himself on a Virginia interstate after being pursued by police, WDBJ reported, and is in "very critical condition." (The station had reported earlier that he had died from a self-inflicted gunshot.)
Twitter and Facebook accounts that appear to belong to Flanagan featured video showing him filming the news crew and pointing a gun at them (warning: disturbing image), and then opening fire. The accounts have been suspended, but Twitter screenshots show that he made several comments about the murdered journalists, accusing Parker of making racist comments and accusing Ward of "going to HR."
WDBJ's own footage of the shooting (warning: extremely disturbing video), filmed by Ward and broadcast live, took place as Parker was interviewing a local Chamber of Commerce official at 6:45am ET. It included a brief, blurry glimpse of the shooter: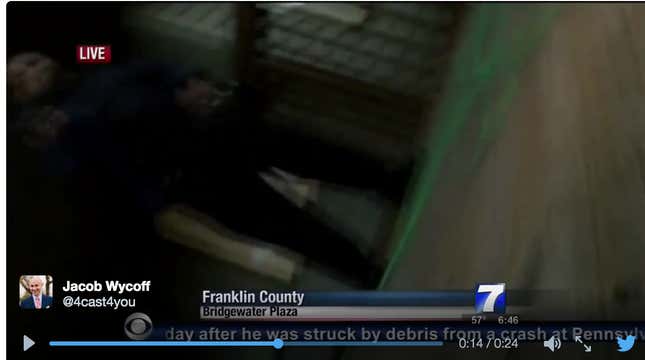 One former WDBJ employee told a local CBS channel that Flanagan had been fired from the station for reasons unknown. The Roanoke Times reported that he worked at the station from 2012 to 2013, and filed a lawsuit against the station, alleging discrimination and naming most of the station's staff in his complaint. The case was dismissed in July 2014 by a judge.
Flanagan had previously filed a racial discrimination lawsuit in 2014 after losing his job at a Tallahassee, Florida, TV station. The suit alleged that "news producers and other managers made offensive remarks about blacks and fired him for complaining about it," the Tallahassee Democrat reported.
At the time of the incident, Parker and Ward were interviewing Vicki Gardner, head of the Smith Mountain Lake Regional Chamber of Commerce. In an email to the Roanoke Times, a chamber of commerce official said that Gardner was "shot in the back and is in surgery."
The WDBJ news staff was faced with the unbearable prospect of reporting on the deaths of their own colleagues—made even more difficult by the fact that Parker and Ward's respective partners also worked for the station. Ward's fiancee, Melissa Ott, a producer with WDBJ, "was in the control room and saw the shooting happen," WDBJ general manager Jeff Marks told CNN.
Chris Hurst, a WDBJ evening anchor, wrote on Twitter after Parker's death that the two were in a relationship and had recently moved in together.
This story is developing and will be updated as more details emerge.